Dodge Durango

Service Manual

Engine » Service procedures

Connecting rod bearings-fitting
Inspect the connecting rod bearings for scoring and bent alignment tabs (Fig. 25) (Fig. 26). Check the bearings for normal wear patterns, scoring, grooving, fatigue and pitting (Fig. 27). Replace any bearing that shows abnormal wear.
Inspect the connecting rod journals for signs of scoring, nicks and burrs.
Misaligned or bent connecting rods can cause abnormal wear on pistons, piston rings, cylinder walls, connecting rod bearings and crankshaft connecting rod journals. If wear patterns or damage to any of these components indicate the probability of a misaligned connecting rod, inspect it for correct rod alignment. Replace misaligned, bent or twisted connecting rods.
(1) Wipe the oil from the connecting rod journal.
(2) Lubricate the upper bearing insert and install in connecting rod.
(3) Use piston ring compressor and Guide Pins Special Tool 8507 (Fig. 28) to install the rod and piston assemblies. The oil slinger slots in the rods must face front of the engine. The "F"'s near the piston wrist pin bore should point to the front of the engine.
(4) Install the lower bearing insert in the bearing cap. The lower insert must be dry. Place strip of Plastigage across full width of the lower insert at the center of bearing cap. Plastigage must not crumble in use. If brittle, obtain fresh stock.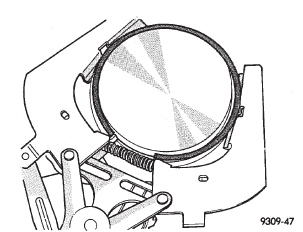 Fig. 23 Upper and Intermediate Rings-Installation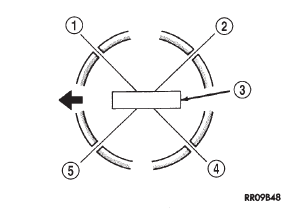 Fig. 24 Piston Ring End Gap Position
1 - SIDE RAIL UPPER
2 - NO. 1 RING GAP
3 - PISTON PIN
4 - SIDE RAIL LOWER
5 - NO. 2 RING GAP AND SPACER EXPANDER GAP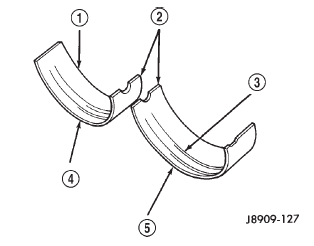 Fig. 25 Connecting Rod Bearing Inspection
1 - UPPER BEARING HALF
2 - MATING EDGES
3 - GROOVES CAUSED BY ROD BOLTS SCRATCHING JOURNAL DURING INSTALLATION
4 - WEAR PATTERN - ALWAYS GREATER ON UPPER BEARING
5 - LOWER BEARING HALF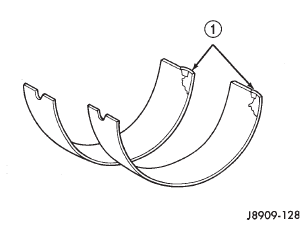 Fig. 26 Locking Tab Inspection
1 - ABNORMAL CONTACT AREA CAUSED BY LOCKING TABS NOT FULLY SEATED OR BEING BENT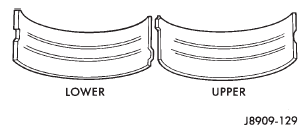 Fig. 27 Scoring Caused by Insufficient Lubrication or by Damaged Crankshaft Pin Journal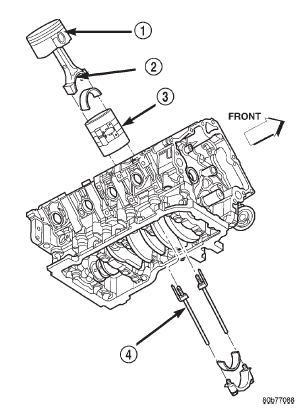 Fig. 28 Piston and Connecting Rod-Installation
1 - "F" TOWARD FRONT OF ENGINE
2 - OIL SLINGER SLOT
3 - RING COMPRESSOR
4 - SPECIAL TOOL 8507
(5) Install bearing cap and connecting rod on the journal and tighten bolts to 27 N*m (20 ft. lbs.) plus a 90 turn. DO NOT rotate crankshaft. Plastigage will smear, resulting in inaccurate indication.
(6) Remove the bearing cap and determine amount of bearing-to-journal clearance by measuring the width of compressed Plastigage (Fig. 29). Refer to Engine Specifications for the proper clearance. Plastigage should indicate the same clearance across the entire width of the insert. If the clearance varies, it may be caused by either a tapered journal, bent connecting rod or foreign material trapped between the insert and cap or rod.
(7) If the correct clearance is indicated, replacement of the bearing inserts is not necessary. Remove the Plastigage from crankshaft journal and bearing insert. Proceed with installation.
(8) If bearing-to-journal clearance exceeds the specification, determin which services bearing set to use the bearing sizes are as follows: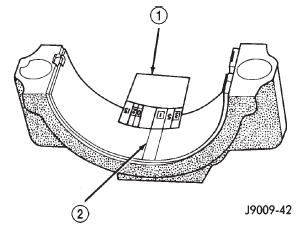 Fig. 29 Measuring Bearing Clearance with Plastigage
1 - PLASTIGAGE SCALE
2 - COMPRESSED PLASTIGAGE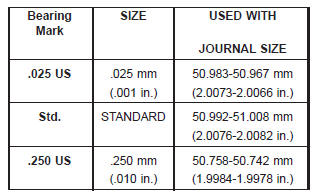 (9) Repeat the Plastigage measurement to verify your bearing selection prior to final assembly.
(10) Once you have selected the proper insert, install the insert and cap. Tighten the connecting rod bolts to 27 N*m (20 ft. lbs.) plus a 90 turn.
Slide snug-fitting feeler gauge between the connecting rod and crankshaft journal flange (Fig. 30).
Refer to Engine Specifications for the proper clearance.
Replace the connecting rod if the side clearance is not within specification.
More about «Service procedures»:
Connecting rod bearings-fitting