Dodge Durango

Service Manual

Engine » Service procedures

Crankshaft main bearings
INSPECTION
Wipe the inserts clean and inspect for abnormal wear patterns and for metal or other foreign material imbedded in the lining. Normal main bearing insert wear patterns are illustrated (Fig. 31).
NOTE: If any of the crankshaft journals are scored, remove the engine for crankshaft repair.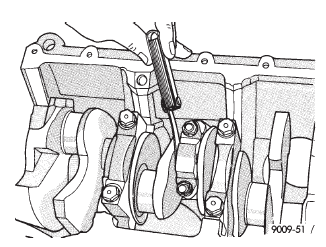 Fig. 30 Checking Connecting Rod Side Clearance- Typical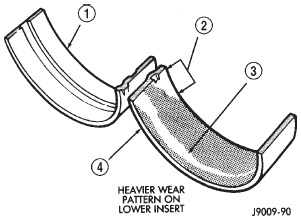 Fig. 31 Main Bearing Wear Patterns
1 - UPPER INSERT
2 - NO WEAR IN THIS AREA
3 - LOW AREA IN BEARING LINING
4 - LOWER INSERT
Inspect the back of the inserts for fractures, scrapings or irregular wear patterns.
Inspect the upper insert locking tabs for damage.
Replace all damaged or worn bearing inserts.
MAIN BEARING JOURNAL DIAMETER (CRANKSHAFT REMOVED)
Remove the crankshaft from the cylinder block.
Refer to Crankshaft in this section for procedure.
Clean the oil off the main bearing journal.
Determine the maximum diameter of the journal with a micrometer. Measure at two locations 90 apart at each end of the journal.
The maximum allowable taper is 0.008mm (0.0004 inch.) and maximum out of round is 0.005mm (0.002 inch). Compare the measured diameter with the jour-nal diameter specification (Main Bearing Fitting Chart). Select inserts required to obtain the specified bearing-to-journal clearance.
Install the crankshaft into the cylinder block. Refer to Crankshaft in this section for procedure.
CRANKSHAFT MAIN BEARING SELECTION
(1) Service main bearings are available in three grades. The chart below identifies the three service grades available.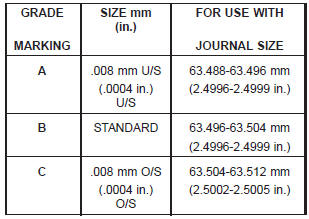 More about «Service procedures»:
Crankshaft main bearings