Dodge Durango

Service Manual

Body » Body component service » Removal and installation

Rear door trim panel
REMOVAL
(1) Release door latch and open door.
(2) Roll window down.
(3) Remove window crank (Fig. 42), if equipped.
(4) Remove screws attaching trim panel to door (Fig. 43).
CAUTION: Do not forcibly pull trim panel from door, damage to trim panel may occur.
(5) Simultaneously lift upward and outward to release retainer steps from inner door panel (Fig. 44).
(6) Disengage inside handle linkage rod from inside handle.
(7) Disconnect power widow/lock harness connector, if equipped (Fig. 45).
(8) Separate door trim panel from vehicle.
(9) If necessary, pull upper trim extension outward to disengage from rear door.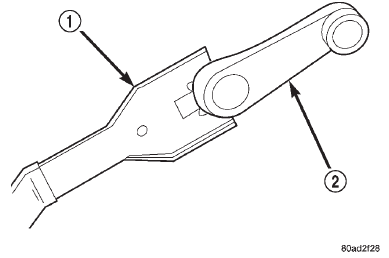 Fig. 42 Window Crank-Typical
1 - WINDOW CRANK REMOVAL TOOL
2 - WINDOW CRANK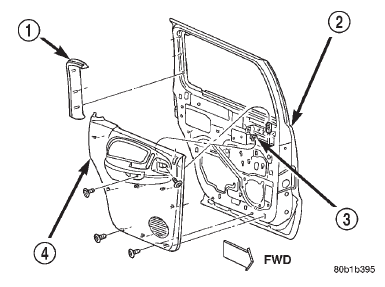 Fig. 43 Rear Door Trim Panel
1 - UPPER TRIM EXTENSION
2 - REAR DOOR
3 - PLASTIC SNAP-IN NUT
4 - TRIM PANEL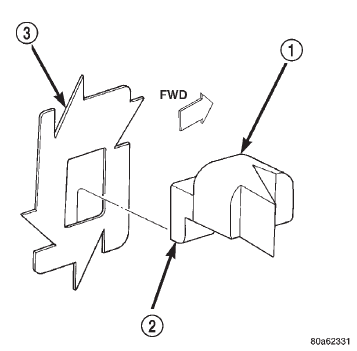 Fig. 44 Trim Panel Retainer
1 - TRIM PANEL
2 - RETAINER STEP
3 - INNER DOOR PANEL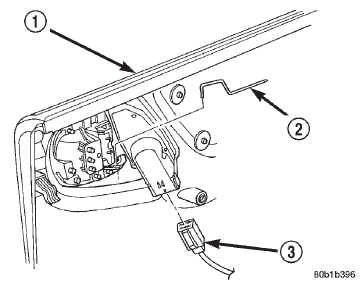 Fig. 45 Power Window/Lock Connector
1 - TRIM PANEL
2 - INSIDE HANDLE LATCH ROD
3 - POWER WINDOW/LOCK CONNECTOR
INSTALLATION
(1) If removed, install upper trim extension on rear door.
(2) Position trim panel at door.
(3) Engage harness connector for power window/ lock, if equipped.
(4) Engage inside handle linkage rod to inside handle.
(5) Align trim panel retainer steps with inner door panel and slide trim panel into place.
(6) Install screws attaching trim panel to door.
(7) Install window crank, if equipped.
More about «Removal and installation»:
Rear door trim panel