Dodge Durango

Service Manual

Steering » Steering column

Description and operation
Steering column
The tilt and standard column (fig. 1) Has been designed to be serviced as an assembly; less wiring, switches, shrouds, steering wheel, etc. Most steering column components can be serviced without removing the steering column from the vehicle.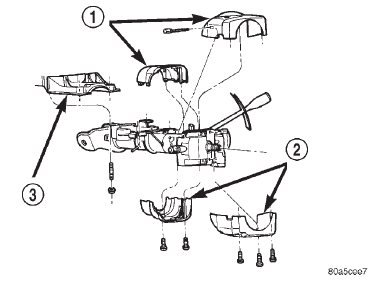 Fig. 1 Steering column
1 - UPPER SHROUD
2 - LOWER SHROUD
3 - PANEL BRACKET
SERVICE PRECAUTIONS
Safety goggles should be worn at all times when working on steering columns.
To service the steering wheel, switches or airbag, refer to Group 8M and follow all WARNINGS and CAUTIONS.
WARNING: THE AIRBAG SYSTEM IS A SENSITIVE, COMPLEX ELECTRO-MECHANICAL UNIT. BEFORE ATTEMPTING TO DIAGNOSE, REMOVE OR INSTALL THE AIRBAG SYSTEM COMPONENTS YOU MUST FIRST DISCONNECT AND ISOLATE THE BATTERY NEGATIVE (GROUND) CABLE. THEN WAIT TWO MINUTES FOR THE SYSTEM CAPACITOR TO DISCHARGE.
FAILURE TO DO SO COULD RESULT IN ACCIDENTAL DEPLOYMENT OF THE AIRBAG AND POSSIBLE PERSONAL INJURY. THE FASTENERS, SCREWS, AND BOLTS, ORIGINALLY USED FOR THE AIRBAG COMPONENTS, HAVE SPECIAL COATINGS AND ARE SPECIFICALLY DESIGNED FOR THE AIRBAG SYSTEM. THEY MUST NEVER BE REPLACED WITH ANY SUBSTITUTES. ANYTIME A NEW FASTENER IS NEEDED, REPLACE WITH THE CORRECT FASTENERS PROVIDED IN THE SERVICE PACKAGE OR FASTENERS LISTED IN THE PARTS BOOKS.
CAUTION: Do not hammer on steering column shaft or shift tube. This may cause damage to the shaft, shift tube or bearing. CAUTION: Do not attempt to remove or modify the park lock slider or link. CAUTION: Do not attempt to remove the pivot pins to disassemble the tilting mechanism. Do not remove shaft lock plate or plate retainer. This will damage the column (Fig. 2) and (Fig. 3).
More about «Steering column»:
Description and operation