Dodge Durango

Service Manual

Introduction

Vehicle safety certification label
A vehicle safety certification label (Fig. 2) is attached to every DaimlerChrysler Corporation vehicle.
The label certifies that the vehicle conforms to all applicable Federal Motor Vehicle Safety Standards.
The label also lists:
Month and year of vehicle manufacture.
Gross Vehicle Weight Rating (GVWR). The gross front and rear axle weight ratings (GAWR's) are based on a minimum rim size and maximum cold tire inflation pressure.
Vehicle Identification Number (VIN).
Type of vehicle.
Type of rear wheels.
Bar code.
Month, Day and Hour (MDH) of final assembly.
Paint and Trim codes.
Country of origin.
The label is located on the driver-side door shutface.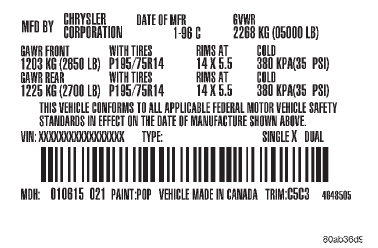 Fig. 2 Vehicle Safety Certification Label-Typical
More about «Introduction»:
Vehicle safety certification label