Dodge Durango

Service Manual

Transmission and Transfer Case » Adjustments

Valve body
CONTROL PRESSURE ADJUSTMENTS
There are two control pressure adjustments on the valve body;
Line Pressure
Throttle Pressure
Line and throttle pressures are interdependent because each affects shift quality and timing. As a result, both adjustments must be performed properly and in the correct sequence. Adjust line pressure first and throttle pressure last.
LINE PRESSURE ADJUSTMENT
Measure distance from the valve body to the inner edge of the adjusting screw with an accurate steel scale (Fig. 311).
Distance should be 33.4 mm (1-5/16 in.).
If adjustment is required, turn the adjusting screw in, or out, to obtain required distance setting.
NOTE: The 33.4 mm (1-5/16 in.) setting is an approximate setting. Manufacturing tolerances may make it necessary to vary from this dimension to obtain desired pressure.
One complete turn of the adjusting screw changes line pressure approximately 1-2/3 psi (9 kPa).
Turning the adjusting screw counterclockwise increases pressure while turning the screw clockwise decreases pressure.
THROTTLE PRESSURE ADJUSTMENT
Insert Gauge Tool C-3763 between the throttle lever cam and the kickdown valve stem (Fig. 312).
Push the gauge tool inward to compress the kickdown valve against the spring and bottom the throttle valve.
Maintain pressure against kickdown valve spring.
Turn throttle lever stop screw until the screw head touches throttle lever tang and the throttle lever cam touches gauge tool.
NOTE: The kickdown valve spring must be fully compressed and the kickdown valve completely bottomed to obtain correct adjustment.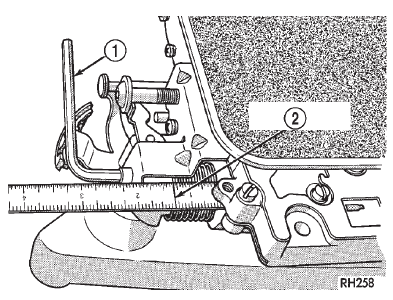 Fig. 311 Line Pressure Adjustment
1 - WRENCH
2 - 1-5/16 INCH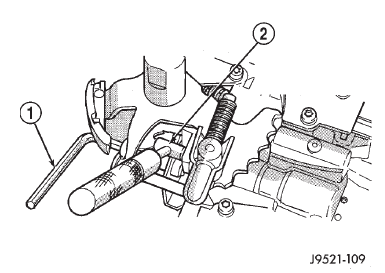 Fig. 312 Throttle Pressure Adjustment
1 - HEX WRENCH (IN THROTTLE LEVER ADJUSTING SCREW)
2 - SPECIAL TOOL C-3763 (POSITIONED BETWEEN THROTTLE LEVER AND KICKDOWN VALVE)
More about «Adjustments»:
Valve body