Dodge Durango

Owners Manual

Starting and operating » Trailer towing

Towing Requirements
To promote proper break-in of your new vehicle drivetrain components, the following guidelines are recommended.
CAUTION!
Do not tow a trailer at all during the first 500 miles (805 km) the new vehicle is driven. The engine, axle or other parts could be damaged.
Then, during the first 500 miles (805 km) that a trailer is towed, do not drive over 50 mph (80 km/h) and do not make starts at full throttle. This helps the engine and other parts of the vehicle wear in at the heavier loads.
Perform the maintenance listed in the "Maintenance Schedule". Refer to "Maintenance Schedule" for the proper maintenance intervals. When towing a trailer, never exceed the GAWR or GCWR ratings.
WARNING! Improper towing can lead to a collision. Follow these guidelines to make your trailer towing as safe as possible:
Make certain that the load is secured in the trailer and will not shift during travel. When trailering cargo that is not fully secured, dynamic load shifts can occur that may be difficult for the driver to control. You could lose control of your vehicle and have a collision.
When hauling cargo or towing a trailer, do not overload your vehicle or trailer. Overloading can cause a loss of control, poor performance or damage to brakes, axle, engine, transmission, steering, suspension, chassis structure or tires.
Safety chains must always be used between your vehicle and trailer. Always connect the chains to the hook retainers of the vehicle hitch. Cross the chains under the trailer tongue and allow enough slack for turning corners.
Vehicles with trailers should not be parked on a grade. When parking, apply the parking brake on the tow vehicle. Put the tow vehicle transmission in PARK. For four-wheel drive vehicles, make sure the transfer case is not in NEUTRAL. Always, block or chock the trailer wheels.
GCWR must not be exceeded.
Total weight must be distributed between the tow vehicle and the trailer such that the following four ratings are not exceeded:
GVWR
GTW
GAWR
Tongue weight rating for the trailer hitch utilized.
Towing Requirements - Tires
Do not attempt to tow a trailer while using a compact spare tire.
Proper tire inflation pressures are essential to the safe and satisfactory operation of your vehicle. Refer to "Tires - General Information" in "Starting And Operating" for proper tire inflation procedures.
Check the trailer tires for proper tire inflation pressures before trailer usage.
Check for signs of tire wear or visible tire damage before towing a trailer. Refer to "Tires - General Information" in "Starting And Operating" for the proper inspection procedure.
When replacing tires, refer to "Tires - General Information" in "Starting And Operating" for the proper tire replacement procedures. Replacing tires with a higher load carrying capacity will not increase the vehicle's GVWR and GAWR limits.
Towing Requirements - Trailer Brakes
Do not interconnect the hydraulic brake system or vacuum system of your vehicle with that of the trailer.This could cause inadequate braking and possible personal injury.
An electronically actuated trailer brake controller is required when towing a trailer with electronically actuated brakes. When towing a trailer equipped with a hydraulic surge actuated brake system, an electronic brake controller is not required.
Trailer brakes are recommended for trailers over 1,000 lbs (453 kg) and required for trailers in excess of 2,000 lbs (907 kg).
WARNING!
Do not connect trailer brakes to your vehicle's hydraulic brake lines. It can overload your brake system and cause it to fail. You might not have brakes when you need them and could have a collision.
Towing any trailer will increase your stopping distance. When towing you should allow for additional space between your vehicle and the vehicle in front of you. Failure to do so could result in a collision.
CAUTION! If the trailer weighs more than 1,000 lbs (453 kg) loaded, it should have its own brakes and they should be of adequate capacity. Failure to do this could lead to accelerated brake lining wear, higher brake pedal effort, and longer stopping distances.
Towing Requirements - Trailer Lights And Wiring (If Equipped)
Whenever you pull a trailer, regardless of the trailer size, stoplights and turn signals on the trailer are required for motoring safety.
The Trailer Tow Package may include a four- and sevenpin wiring harness. Use a factory approved trailer harness and connector.
NOTE: Do not cut or splice wiring into the vehicles wiring harness.
The electrical connections are all complete to the vehicle but you must mate the harness to a trailer connector.
Refer to the following illustrations.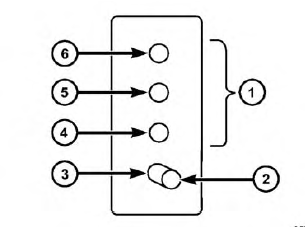 Four-Pin Connector
1 - Female Pins
2 - Male Pin
3 - Ground
4 - Park
5 - Left Stop/Turn
6 - Right Stop/Turn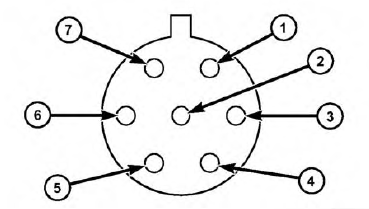 Seven-Pin Connector
1 - Battery
2 - Backup Lamps
3 - Right Stop/Turn
4 - Electric Brakes
5 - Ground
6 - Left Stop/Turn
7 - Running Lamps
More about «Trailer towing»:
Towing Requirements