Dodge Durango

Service Manual

Cooling System » Removal and installation

Thermostat- 4.7L engine
REMOVAL
WARNING: DO NOT LOOSEN RADIATOR DRAINCOCK WITH SYSTEM HOT AND PRESSURIZED.
SERIOUS BURNS FROM COOLANT CAN OCCUR.
Do not waste reusable coolant. If solution is clean, drain coolant into a clean container for reuse.
If thermostat is being replaced, be sure that replacement is specified thermostat for vehicle model and engine type.
(1) Disconnect negative battery cable at battery.
(2) Drain cooling system. Refer to Draining Cooling System in this section.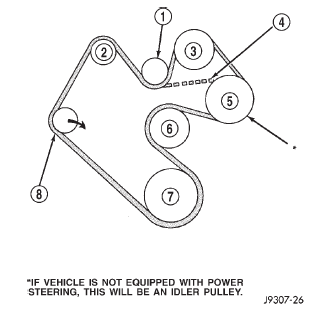 Fig. 48 Belt Routing-5.2L/5.9L Engines
1 - IDLER PULLEY
2 - GENERATOR PULLEY
3 - A/C COMPRESSOR PULLEY
4 - IF W/OUT A/C
5 - POWER STEERING PUMP PULLEY
6 - WATER PUMP PULLEY
7 - CRANKSHAFT PULLEY
8 - AUTOMATIC TENSIONER
(3) Raise vehicle on hoist.
(4) Remove splash shield.
(5) Remove lower radiator hose clamp and lower radiator hose at thermostat housing.
(6) Remove thermostat housing mounting bolts, thermostat housing and thermostat (Fig. 49).
INSTALLATION
(1) Clean mating areas of timing chain cover and thermostat housing.
(2) Install thermostat (spring side down) into recessed machined groove on timing chain cover (Fig.
49).
(3) Position thermostat housing on timing chain cover.
(4) Install two housing-to-timing chain cover bolts.
Tighten bolts to 13 N*m (115 in. lbs.) torque.
CAUTION: Housing must be tightened evenly and thermostat must be centered into recessed groove in timimg chain cover. If not, it may result in a cracked housing, damaged timing chain cover threads or coolant leaks.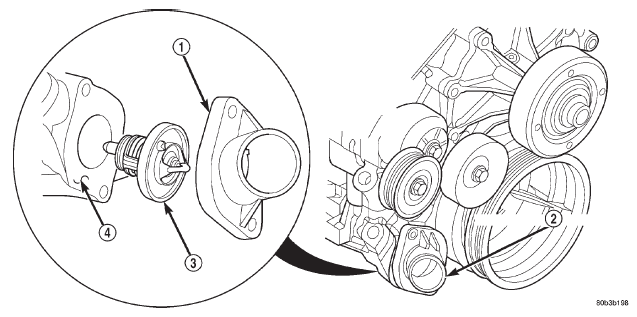 Fig. 49 Thermostat and Thermostat Housing 4.7L
1 - THERMOSTAT HOUSING
2 - THERMOSTAT LOCATION
3 - THERMOSTAT AND GASKET
4 - TIMING CHAIN COVER
(5) Install lower radiator hose on thermostat housing.
(6) Install splash shield.
(7) Lower vehicle.
(8) Fill cooling system. Refer to Refilling Cooling System in this section.
(9) Connect negative battery cable to battery.
(10) Start and warm the engine. Check for leaks.
More about «Removal and installation»:
Thermostat- 4.7L engine