Dodge Durango

Service Manual

Body » Body component service » Removal and installation

Roof rail weatherstrip and retainer
REMOVAL
(1) Release door latch and open door.
(2) The rearward corner of the weatherstip is adhesively attached to the body. Peel back the corner of the weatherstrip to release it from the body.
(3) Pull weatherstrip from retainer (Fig. 61).
(4) Remove screws attaching retainer to roof rail (Fig. 62).
(5) Separate retainer from vehicle.
INSTALLATION
NOTE: The screws attaching the retainer to the roof are coated with wax to prevent water leakage. If the retainer has been removed from the roof, replace the screws.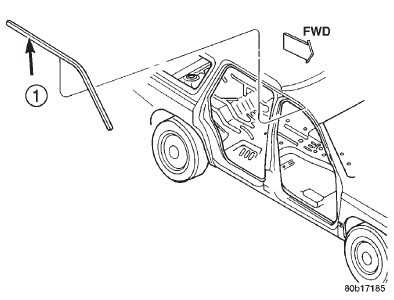 Fig. 61 Roof Rail Weatherstrip
1 - UPPER BODY SIDE SEAL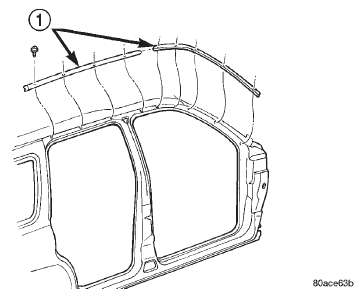 Fig. 62 Roof Rail Retainer
1 - RETAINER
(1) Ensure the area where tape secures the weatherstrip is clean. Use Mopar Super Clean or equivalent.
(2) Position retainer on vehicle.
(3) Install screws attaching retainer to roof rail.
(4) Starting at the forward end of retainer, push weatherstrip on until seated.
(5) Peel the backing from the rearward end of the weatherstrip and press to secure.
More about «Removal and installation»:
Roof rail weatherstrip and retainer