Dodge Durango

Service Manual

Body » Body component service » Removal and installation

Rear door latch striker
REMOVAL
(1) Use a wax crayon or equivalent and mark position of striker on C-pillar.
(2) Remove bolts attaching striker and shim to C-pillar (Fig. 52).
(3) Separate striker from C-pillar.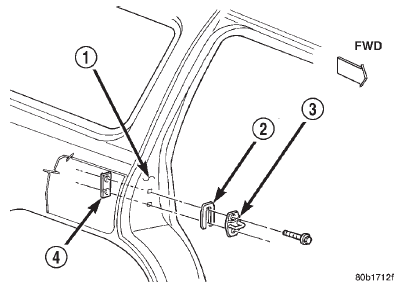 Fig. 52 Rear Door Latch Striker
1 - C-PILLAR
2 - SHIM
3 - STRIKER
4 - TAPPING PLATE
INSTALLATION
(1) Using alignment marks, position shim and striker on C-Pillar.
(2) Install bolts. Tighten bolts to 28 N*m (20 ft.
lbs.) torque.
Rear door inside handle actuator
The rear door inside handle actuator is heat staked to the trim panel. If the handle needs servicing, refer to the heat staking procedure located in this section.
More about «Removal and installation»:
Rear door latch striker