Dodge Durango

Service Manual

Cooling System » Description and operation

Radiator pressure cap
DESCRIPTION
All radiators are equipped with a pressure cap.
This cap releases pressure at some point within a range of 124-to-145 kPa (18-to-21 psi). The pressure relief point (in pounds) is engraved on top of the cap The cooling system will operate at pressures slightly above atmospheric pressure. This results in a higher coolant boiling point allowing increased radiator cooling capacity. The cap contains a springloaded pressure relief valve. This valve opens when system pressure reaches the release range of 124-to- 145 kPa (18-to-21 psi).
A rubber gasket seals the radiator filler neck. This is done to maintain vacuum during coolant cool-down and to prevent leakage when system is under pressure.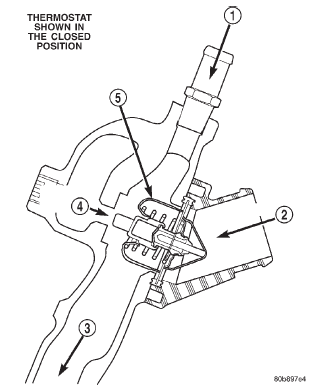 Fig. 5 Thermostat Cross Section View 4.7L
1 - FROM HEATER
2 - FROM RADIATOR
3 - TO WATER PUMP
4 - ENGINE BYPASS
5 - THERMOSTAT
OPERATION
A vent valve in the center of the cap will remain shut as long as the cooling system is pressurized. As the coolant cools, it contracts and creates a vacuum in cooling system. This causes the vacuum valve to open and coolant in reserve/overflow tank to be drawn through connecting hose into radiator. If the vacuum valve is stuck shut, or overflow hose is kinked, radiator hoses will collapse on cool-down.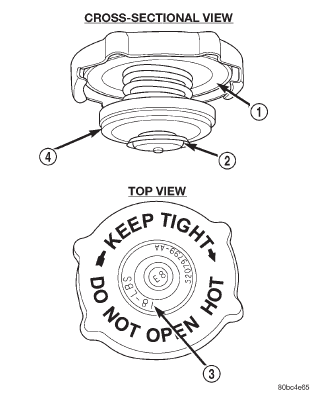 Fig. 6 Radiator Pressure Cap-Typical
1 - FILLER NECK SEAL
2 - VACUUM VENT VALVE
3 - PRESSURE RATING
4 - PRESSURE VALVE
More about «Description and operation»:
Radiator pressure cap