Dodge Durango

Service Manual

Transmission and Transfer Case » Description and operation

Planetary gearset
DESCRIPTION
The planetary gearsets (Fig. 58) are designated as the front, rear, and overdrive planetary gear assemblies and located in such order. A simple planetary gearset consists of three main members:
The sun gear which is at the center of the system.
The planet carrier with planet pinion gears which are free to rotate on their own shafts and are in mesh with the sun gear.
The annulus gear, which rotates around and is in mesh with the planet pinion gears.
NOTE: The number of pinion gears does not affect the gear ratio, only the duty rating.
OPERATION
With any given planetary gearset, several conditions must be met for power to be able to flow:
One member must be held
Another member must be driven or used as an input.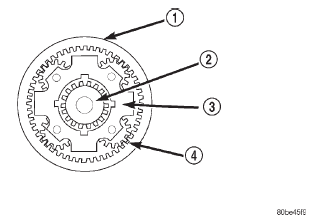 Fig. 58 Planetary Gearset
1 - ANNULUS GEAR
2 - SUN GEAR
3 - PLANET CARRIER
4 - PLANET PINIONS (4)
The third member may be used as an output for power flow.
For direct drive to occur, two gear members in the front planetary gearset must be driven.
NOTE: Gear ratios are dependent on the number of teeth on the annulus and sun gears.
More about «Description and operation»:
Planetary gearset