Dodge Durango

Service Manual

Transmission and Transfer Case » Removal and installation

Output shaft front bearing
REMOVAL
(1) Remove overdrive unit from the vehicle.
(2) Remove overdrive geartrain from housing.
(3) Remove snap ring holding output shaft front bearing to overdrive geartrain. (Fig. 98).
(4) Pull bearing from output shaft.
INSTALLATION
(1) Place replacement bearing in position on geartrain with locating retainer groove toward the rear.
(2) Push bearing onto shaft until the snap ring groove is visible.
(3) Install snap ring to hold bearing onto output shaft (Fig. 98).
(4) Install overdrive geartrain into housing.
(5) Install overdrive unit in vehicle.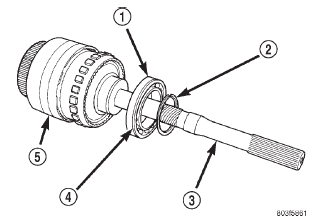 Fig. 98 Output Shaft Front Bearing
1 - OUTPUT SHAFT FRONT BEARING
2 - SNAP RING
3 - OUTPUT SHAFT
4 - GROOVE TO REAR
5 - OVERDRIVE GEARTRAIN
More about «Removal and installation»:
Output shaft front bearing