Dodge Durango

Service Manual

Ignition System » Removal and installation

Ignition coil-3.9/5.2/5.9L engines
The ignition coil is an epoxy filled type. If the coil is replaced, it must be replaced with the same type.
REMOVA
The coil is mounted to a bracket that is bolted to the front of the right engine cylinder head (Fig. 24).
This bracket is mounted on top of the automatic belt tensioner bracket using common bolts.
(1) Disconnect the primary wiring from the ignition coil.
(2) Disconnect the secondary spark plug cable from the ignition coil.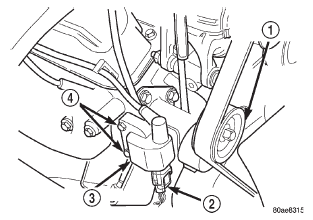 Fig. 24 Ignition Coil-3.9L V-6 or 5.2/5.9L V-8 Engines
1 - ACCESSORY DRIVE BELT TENSIONER
2 - COIL CONNECTOR
3 - IGNITION COIL
4 - COIL MOUNTING BOLTS
WARNING: DO NOT REMOVE THE COIL MOUNTING BRACKET-TO-CYLINDER HEAD MOUNTING BOLTS.
THE COIL MOUNTING BRACKET IS UNDER ACCESSORY DRIVE BELT TENSION. IF THIS BRACKET IS TO BE REMOVED FOR ANY REASON, ALL BELT TENSION MUST FIRST BE RELIEVED. REFER TO THE BELT SECTION OF GROUP 7, COOLING SYSTEM.
(3) Remove ignition coil from coil mounting bracket (two bolts).
INSTALLATION
(1) Install the ignition coil to coil bracket. If nuts and bolts are used to secure coil to coil bracket, tighten to 11 N*m (100 in. lbs.) torque. If the coil mounting bracket has been tapped for coil mounting bolts, tighten bolts to 5 N*m (50 in. lbs.) torque.
(2) Connect all wiring to ignition coil.
More about «Removal and installation»:
Ignition coil-3.9/5.2/5.9L engines