Dodge Durango

Service Manual

Cooling System » Description and operation

Hose clamps
DESCRIPTION
The cooling system utilizes both worm drive and spring type hose clamps. If a spring type clamp replacement is necessary, replace with the original Mopart equipment spring type clamp.
CAUTION: A number or letter is stamped into the tongue of constant tension clamps. If replacement is necessary, use only a original equipment clamp with matching number or letter (Fig. 16).
OPERATION
The worm type hose clamp uses a specified torque value to maintain proper tension on a hose connection.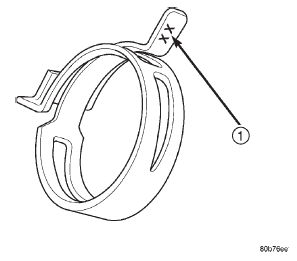 Fig. 16 Spring Clamp Size Location
1 - SPRING CLAMP SIZE LOCATION
The spring type hose clamp applies constant tension on a hose connection. To remove a spring type hose clamp, only use constant tension clamp pliers designed to compress the hose clamp.
More about «Description and operation»:
Hose clamps