Dodge Durango

Owners Manual

Understanding the features of your vehicle » Lights

Fog Lights - If Equipped
The fog lights are turned on by rotating the headlight switch to the parking light or headlight position and pushing in the headlight rotary control.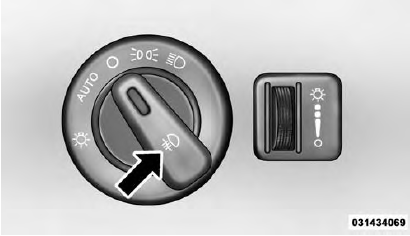 Fog Light Operation
The fog lights will operate only when the parking lights are on or when the vehicle headlights are on low beam.
An indicator light located in the instrument cluster will illuminate when the fog lights are on. The fog lights will turn off when the switch is pushed a second time, when the headlight switch is rotated to the off position, or the high beam is selected.
More about «Lights»:
Fog Lights - If Equipped