Dodge Durango

Service Manual

Transmission and Transfer Case » Description and operation

Fluid
NOTE: Refer to the maintenance schedules in Group 0, Lubrication and Maintenance for the recommended maintenance (fluid/filter change) intervals for this transmission.
NOTE: Refer to Service Procedures in this group for fluid level checking procedures.
DESCRIPTION
Mopart ATF Plus 3, Type 7176, automatic transmission fluid is the recommended fluid for Daimler- Chrysler automatic transmissions.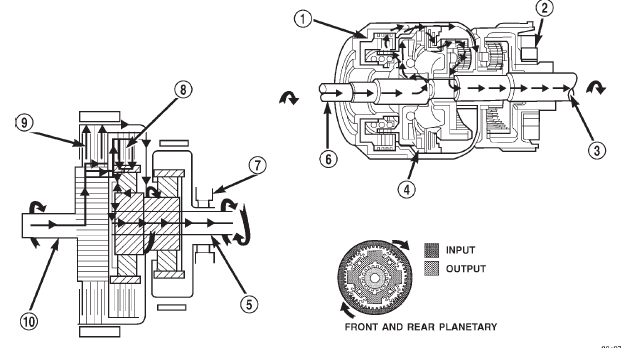 Fig. 8 Direct Drive Powerflow
1 - FRONT CLUTCH APPLIED
2 - OVER-RUNNING CLUTCH FREE-WHEELING
3 - OUTPUT SHAFT
4 - REAR CLUTCH APPLIED
5 - OUTPUT SHAFT
6 - INPUT SHAFT
7 - OVER-RUNNING CLUTCH FREE-WHEELING
8 - REAR CLUTCH APPLIED
9 - FRONT CLUTCH APPLIED
10 - INPUT SHAFT
Dexron II fluid IS NOT recommended. Clutch chatter can result from the use of improper fluid.
Mopart ATF Plus 3, Type 7176, automatic transmission fluid when new is red in color. The ATF is dyed red so it can be identified from other fluids used in the vehicle such as engine oil or antifreeze. The red color is not permanent and is not an indicator of fluid condition. As the vehicle is driven, the ATF will begin to look darker in color and may eventually become brown. This is normal. A dark brown/black fluid accompanied with a burnt odor and/or deterioration in shift quality may indicate fluid deterioration or transmission component failure.
FLUID ADDITIVES
DaimlerChrysler strongly recommends against the addition of any fluids to the transmission, other than those automatic transmission fluids listed above.
Exceptions to this policy are the use of special dyes to aid in detecting fluid leaks.
Various "special" additives and supplements exist that claim to improve shift feel and/or quality. These additives and others also claim to improve converter clutch operation and inhibit overheating, oxidation, varnish, and sludge. These claims have not been supported to the satisfaction of DaimlerChrysler and these additives must not be used. The use of transmission "sealers" should also be avoided, since they may adversely affect the integrity of transmission seals.
OPERATION
The automatic transmission fluid is selected based upon several qualities. The fluid must provide a high level of protection for the internal components by providing a lubricating film between adjacent metal components. The fluid must also be thermally stable so that it can maintain a consistent viscosity through a large temperature range. If the viscosity stays constant through the temperature range of operation, transmission operation and shift feel will remain consistent.
Transmission fluid must also be a good conductor of heat. The fluid must absorb heat from the internal transmission components and transfer that heat to the transmission case.
More about «Description and operation»:
Fluid