Dodge Durango

Service Manual

Body » Body component service » Removal and installation

Decals
REMOVAL
(1) Warm the panel to approximately 38C (100F) using a suitable heat lamp or heat gun.
(2) Peel decal from body panel (Fig. 19) and (Fig.
20) using an even pressure pull.
(3) Remove adhesive residue from body panel using a suitable adhesive removing solvent.
INSTALLATION
The painted surface of the body panel to be covered by a decal must be smooth and completely cured before decal can be applied. Ripples and feather edging will read through if surface is not properly prepared.
Clean all residue from surface.
(1) Peel paper backing away from decal exposing adhesive back of decal.
(2) Apply soap solution liberally to adhesive back of decal.
(3) Apply soap solution liberally to body panel surface.
(4) Place decal into position on body panel. Smooth out wrinkles by pulling lightly on edges of decal until it lays flat on painted surface.
(5) Push air pockets from under decal to the perimeter of the panel from the center of the decal out.
(6) Squeegee soap solution and air bubbles from behind decal from the center of the panel out using a body putty applicator squeegee.
(7) Apply heat to decal to evaporate residual moisture from edges of decal.
(8) Small air or water bubbles under decal can be pierced with a pin and smoothed out.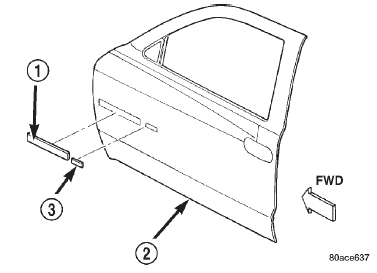 Fig. 19 Door Decals
1 - "DURANGO" DECAL
2 - FRONT DOOR
3 - "SLT" DECAL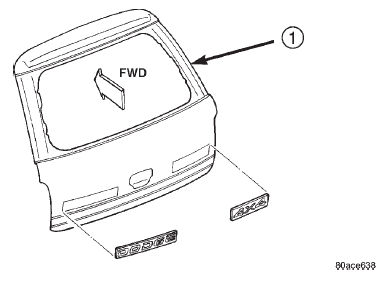 Fig. 20 Liftgate Decals
1 - LIFTGATE
More about «Removal and installation»:
Decals