Dodge Durango

Service Manual

Engine » Removal and installation

Crankshaft damper
REMOVAL
(1) Disconnect negative cable from battery.
(2) Remove accessory drive belt. Refer to COOLING SYSTEM.
(3) Drain cooling system. Refer to COOLING SYSTEM.
(4) Remove radiator upper hose.
(5) Remove upper fan shroud. Refer to COOLING SYSTEM.
(6) Using Special Tools 6958 Spanner with Adapter Pins 8346, loosen fan and viscous assembly from water pump (Fig. 69).
(7) Remove fan and viscous assembly.
(8) Disconnect electrical connector for fan mounted inside radiator shroud.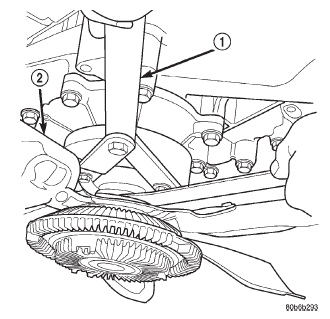 Fig. 69 Fan Assembly-Removal/Installation
1 - SPECIAL TOOL 6958 SPANNER WRENCH WITH ADAPTER PINS 8346
2 - FAN
NOTE: Transmission cooler line snaps into shroud lower right hand corner.
(9) Remove crankshaft damper bolt.
(10) Remove damper using Special Tools 8513 Insert and 1026 Three Jaw Puller (Fig. 70).
INSTALLATION
CAUTION: To prevent severe damage to the Crankshaft, Damper or Special Tool 8512, thoroughly clean the damper bore and the crankshaft nose before installing Damper.
(1) Align crankshaft damper slot with key in crankshaft. Slide damper onto crankshaft slightly.
CAUTION: Special Tool 8512, is assembled in a specific sequence. Failure to assemble this tool in this sequence can result in tool failure and severe damage to either the tool or the crankshaft.
(2) Assemble Special Tool 8512 as follows, The nut is threaded onto the shaft first. Then the roller bearing is placed onto the threaded rod (The hardened bearing surface of the bearing MUST face the nut).
Then the hardened washer slides onto the threaded rod (Fig. 71). Once assembled coat the threaded rod's threads with Mopart Nickel Anti-Seize or (Loctite No. 771).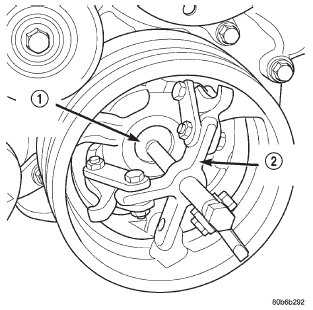 Fig. 70 Crankshaft Damper-Removal
1 - SPECIAL TOOL 8513 INSERT
2 - SPECIAL TOOL 1026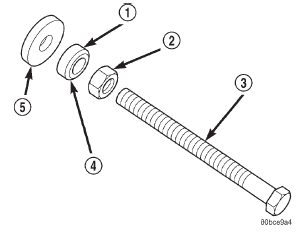 Fig. 71 Proper Assembly Method for Special Tool 8512
1 - BEARING
2 - NUT
3 - THREADED ROD
4 - BEARING HARDENED SURFACE (FACING NUT)
5 - HARDENED WASHER
(3) Using Special Tool 8512, press damper onto crankshaft (Fig. 72).
(4) Install then tighten crankshaft damper bolt to 175 N*m (130 ft. lbs.).
(5) Install fan blade assembly.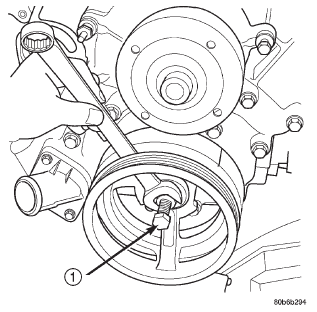 Fig. 72 Crankshaft Damper-Installation
1 - SPECIAL TOOL 8512
(6) Install radiator upper shroud and tighten fasteners to 11 N*m (95 in. lbs.).
(7) Connect electrical connector for shroud fan.
(8) Install radiator upper hose.
(9) Install accessory drive belt.
(10) Refill cooling system.
(11) Connect negative cable to battery.
More about «Removal and installation»:
Crankshaft damper