Dodge Durango

Service Manual

Brakes » Rear wheel antilock brakes » Description and operation

Controller rear wheel antilock brakes
DESCRIPTION
The Controller Antilock Brakes (CAB) is a microprocessor which handles testing, monitoring and controlling the ABS brake system operation (Fig. 1). The CAB functions are:
Perform self-test diagnostics.
Monitor the RWAL brake system for proper operation.
Control the RWAL valve solenoids.
NOTE: If the CAB needs to be replaced, the rear axle type and tire revolutions per mile must be programed into the new CAB. For axle type refer to Group 3 Differential and Driveline. For tire revolutions per mile refer to Group 22 Tire and Wheels. To program the CAB refer to the Chassis Diagnostic Manual.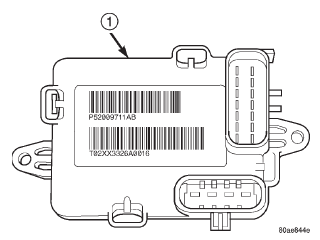 Fig. 1 RWAL CAB
1 - RWALCAB
OPERATION
SYSTEM SELF-TEST
When the ignition switch is turned-on the microprocessor RAM and ROM are tested. If an error occurs during the test, a DTC will be set into the RAM memory. However it is possible the DTC will not be stored in memory if the error has occurred in the RAM module were the DTC's are stored. Also it is possible a DTC may not be stored if the error has occurred in the ROM which signals the RAM to store the DTC.
CAB INPUTS
The CAB continuously monitors the speed of the differential ring gear by monitoring signals generated by the rear wheel speed sensor. The CAB determines a wheel locking tendency when it recognizes the ring gear is decelerating too rapidly. The CAB monitors the following inputs to determine when a wheel locking tendency may exists:
Rear Wheel Speed Sensor
Brake Lamp Switch
Brake Warning Lamp Switch
Reset Switch
4WD Switch (If equipped)
CAB OUTPUTS
The CAB controls the following outputs for antilock braking and brake warning information:
RWAL Valve
ABS Warning Lamp
Brake Warning Lamp
More about «Description and operation»:
Controller rear wheel antilock brakes