Dodge Durango

Service Manual

Heating and Air Conditioning » Description and operation

Compressor clutch
DESCRIPTION
The compressor clutch assembly consists of a stationary electromagnetic coil, a hub bearing and pulley assembly, and a clutch plate (Fig. 3). The electromagnetic coil unit and the hub bearing and pulley assembly are each retained on the nose of the compressor front housing with snap rings. The clutch plate is mounted to the compressor shaft and secured with a nut.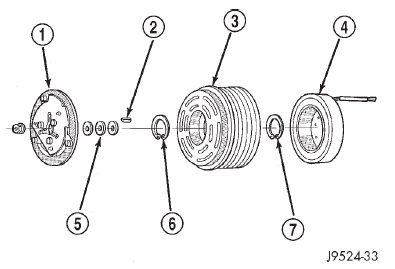 Fig. 3 Compressor Clutch - Typical
1 - CLUTCH PLATE
2 - SHAFT KEY
3 - PULLEY
4 - COIL
5 - CLUTCH SHIMS
6 - SNAP RING
7 - SNAP RING
OPERATION
These components provide the means to engage and disengage the compressor from the engine serpentine accessory drive belt. When the clutch coil is energized, it magnetically draws the clutch into contact with the pulley and drives the compressor shaft.
When the coil is not energized, the pulley freewheels on the clutch hub bearing, which is part of the pulley.
The compressor clutch and coil are the only serviced parts on the compressor.
The compressor clutch engagement is controlled by several components: the heater-A/C mode control switch, the electronic cycling clutch switch, the low pressure cut-off switch, the high pressure cut-off switch, the compressor clutch relay, and the Powertrain Control Module (PCM). The PCM may delay compressor clutch engagement for up to thirty seconds.
Refer to Group 14 - Fuel System for more information on the PCM controls.
More about «Description and operation»:
Compressor clutch