Dodge Durango

Service Manual

Instrument Panel Systems » Removal and installation

Cluster bezel
WARNING: ON VEHICLES EQUIPPED WITH AIRBAGS, REFER TO GROUP 8M - PASSIVE RESTRAINT SYSTEMS BEFORE ATTEMPTING ANY STEERING WHEEL, STEERING COLUMN, OR INSTRUMENT PANEL COMPONENT DIAGNOSIS OR SERVICE. FAILURE TO TAKE THE PROPER PRECAUTIONS COULD RESULT IN ACCIDENTAL AIRBAG DEPLOYMENT AND POSSIBLE PERSONAL INJURY.
REMOVAL
(1) Disconnect and isolate the battery negative cable.
(2) Turn the ignition switch to the Unlock position, set the park brake, and place the automatic transmission gear selector lever in the Low position.
(3) If the vehicle is so equipped, set the tilt steering column in its lowest position.
(4) Using a trim stick or another suitable wide flat-bladed tool, gently pry around the perimeter of the cluster bezel to disengage the snap clips from their receptacles in the instrument panel (Fig. 1).
(5) Remove the cluster bezel from the instrument panel.
INSTALLATION
(1) Position the cluster bezel to the instrument panel.
(2) Align the snap clips on the cluster bezel with the receptacles in the instrument panel.
(3) Press firmly on the cluster bezel over each of the snap clip locations until each of the snap clips is fully engaged in its receptacle.
(4) Reconnect the battery negative cable.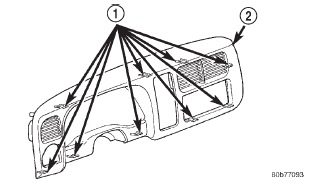 Fig. 1 Cluster Bezel Remove/Install
1 - SNAP CLIP RETAINERS
2 - CLUSTER BEZEL
More about «Removal and installation»:
Cluster bezel