Dodge Durango

Service Manual

Brakes » Base brake system » Removal and installation

Brake lamp switch
REMOVAL
(1) Disconnect switch harness (Fig. 15).
(2) Press and hold brake pedal in applied position.
(3) Rotate switch counterclockwise about 30 to align switch lock tab with notch in bracket.
(4) Pull switch rearward out of mounting bracket and release brake pedal.
INSTALLATION
(1) Press and hold brake pedal down.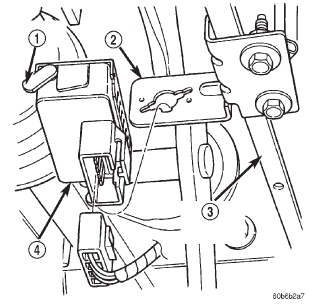 Fig. 15 Brake Lamp Switch & Bracket
1 - RELEASE LEVER
2 - BRACKET
3 - BRAKE PEDAL SUPPORT
4 - BRAKE LAMP SWITCH
2) Align tab on new switch with notch in switch bracket. Then insert switch in bracket and turn it clockwise about 30 to lock it in place.
(3) Connect harness wires to switch.
(4) Release brake pedal.
(5) Move the release lever (Fig. 15) on the switch to engage the switch plunger. The switch is now adjusted and can not be adjusted again.
More about «Removal and installation»:
Brake lamp switch