Dodge Durango

Owners Manual

Understanding the features of your vehicle » Lights

Headlight Switch
The headlight switch is located on the left side of the instrument panel, next to the steering wheel. The headlight switch controls the operation of the headlights, parking lights, instrument panel lights, cargo lights and fog lights (if equipped).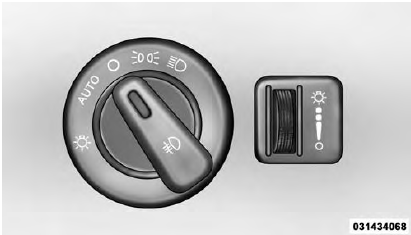 Headlight Switch

To turn on the headlights, rotate the headlight switch clockwise. When the headlight switch is on the parking lights, taillights, license plate light and instrument panel lights are also turned on. To turn off the headlights, rotate the headlight switch back to the O (Off) position.
NOTE:
Your vehicle is equipped with plastic headlight and fog light (if equipped) lenses that are lighter and less susceptible to stone breakage than glass lights. Plastic is not as scratch resistant as glass and therefore different lens cleaning procedures must be followed.
To minimize the possibility of scratching the lenses and reducing light output, avoid wiping with a dry cloth. To remove road dirt, wash with a mild soap solution followed by rinsing.
CAUTION! Do not use abrasive cleaning components, solvents, steel wool or other abrasive materials to clean the lenses.
More about «Lights»:
Headlight Switch