Dodge Durango

Owners Manual

Starting and operating » Automatic transmission

Fuel Economy (ECO) Mode
The Fuel Economy (ECO) mode can improve the vehicle's overall fuel economy during normal driving conditions.
Push the "eco" switch in the center stack of the instrument panel to activate or disable ECO mode. An amber light on the switch indicates when ECO mode is disabled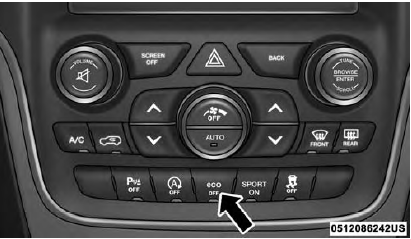 Fuel Economy Mode Switch
When the Fuel Economy (ECO) Mode is engaged, the vehicle control systems will change the following:
The transmission will upshift sooner and downshift later.
The overall driving performance will be more conservative.
Some ECO mode functions may be temporarily inhibited based on temperature and other factors.
More about «Automatic transmission»:
Fuel Economy (ECO) Mode