Dodge Durango

Owners Manual

Understanding the features of your vehicle » Seats

Folding Third Row
Both third row seats can be folded forward to increase the cargo area. To lower either seat pull on the release handle located on back of the seat and lower the seat using the pull strap located next to the release handle.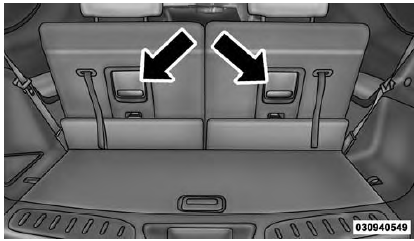 Release Handles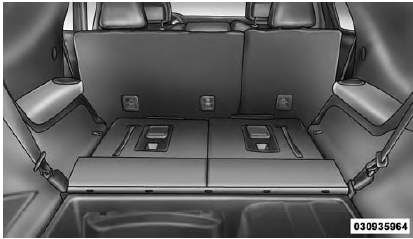 Third Row Folded
NOTE: The second row seats must be in their full upright position, or tumbled when folding the third row seats.
To raise the seat, pull the seat toward you using the strap located on the back of the seat.
NOTE: You may experience deformation in the seat cushion from the seat belt buckles if the seats are left folded for an extended period of time. This is normal and by simply opening the seats to the open position, over time the seat cushion will return to its normal shape.
WARNING! Be certain that the seatback is securely locked into position. If the seatback is not securely locked into position the seat will not provide the proper stability for child seats and/or passengers. An improperly latched seat could cause serious injury.
More about «Seats»:
Folding Third Row