Dodge Durango

Owners Manual

Understanding your instrument panel » Uconnect rear seat entertainment (rse) system - if equipped

Unwired Stereo Headphone Lifetime Limited Warranty
Who Does This Warranty Cover? This warranty covers the initial user or purchaser ( you or your ) of this particular Unwired Technology LLC ( Unwired ) wireless headphone ( Product ). The warranty is not transferable.
How Long Does the Coverage Last? This warranty lasts as long as you own the Product.
What Does This Warranty Cover? Except as specified below, this warranty covers any Product that in normal use is defective in workmanship or materials.
What Does This Warranty Not Cover? This warranty does not cover any damage or defect that results from misuse, abuse or modification of the Product other than by Unwired. Foam earpieces, which will wear over time through normal use, are specifically not covered (replacement foam is available for a nominal charge). UNWIRED TECHNOLOGY IS NOT LIABLE FOR ANY INJURIES OR DAMAGES TO PERSONS OR PROPERTY RESULTING FROM THE USE OF, OR ANY FAILURE OR DEFECT IN, THE PRODUCT, NOR IS UNWIRED LIABLE FOR ANY GENERAL, SPECIAL, DIRECT, INDIRECT, INCIDENTAL, CONSEQUENTIAL, EXEMPLARY, PUNITIVE OR OTHER DAMAGES OF ANY KIND OR NATURE WHATSOEVER. Some states and jurisdictions may not allow the exclusion or limitation of incidental or consequential damages, so the above limitation may not apply to you. This warranty gives you specific legal rights. You may also have other rights, which vary from jurisdiction to jurisdiction.
What Will Unwired Do? Unwired, at its option, will repair or replace any defective Product. Unwired reserves the right to replace any discontinued Product with a comparable model. THIS WARRANTY IS THE SOLE WARRANTY FOR THIS PRODUCT, SETS FORTH YOUR EXCLUSIVE REMEDY REGARDING DEFECTIVE PRODUCTS, AND IS IN LIEU OF ALL OTHER WARRANTIES (EXPRESS OR IMPLIED), INCLUDING ANY WARRANTY OR MERCHANTABILITY OR FITNESS FOR A PARTICULAR PURPOSE.
If you have any questions or comments regarding your Unwired wireless headphones, please phone 1-888-293-3332 or email customersupport@unwiredtechnology.com.
You may register your Unwired wireless headphones by phone at 1-888-293-3332.
System Information
Disc Menu
When listening to a CD Audio or CD Data disc, pushing the remote control's POP UP/MENU button displays a list of all commands which control playback of the disc.
Display Settings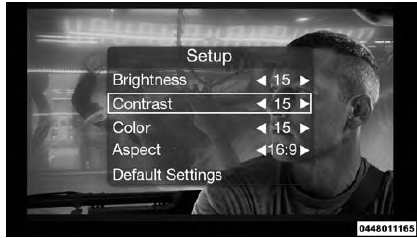 Video Screen Display Settings
When watching a video source (Blu-ray Disc or DVD Video with the disc in Play mode, Aux Video, etc.), pushing the remote control's SETUP button activates the
Display Settings menu. These settings control the appearance of the video on the screen. The factory default settings are already set for optimum viewing, so there is no need to change these settings under normal circumstances.
To change the settings, push the remote control's navigation buttons (

,

) to select an item, then push the remote control's navigation buttons (

,

) to change the value for the currently selected item. To reset all values back to the original settings, select the Default Settings menu option and push the remote control's ENTER/OK button.
Disc Features control the remote Blu-ray Disc player's settings of DVD being watched in the remote player.
Listening To Audio With The Screen Closed
To listen to only audio portion of the channel with the screen closed:
Set the audio to the desired source and channel.
Close the video screen.
To change the current audio mode, push the remote control's SOURCE button. This will automatically select the next available audio mode without using the Mode/Source Select menu.
When the screen is reopened, the video screen will automatically turn back on and show the appropriate display menu or media.
If the screen is closed and there is no audio heard, verify that the headphones are turned on (the ON indicator is illuminated) and the headphone selector switch is on the desired channel. If the headphones are turned on, push the remote control's power button to turn audio on. If audio is still not heard, check that fully charged batteries are installed in the headphones.
Disc Formats
The Blu-ray Disc player is capable of the playing the following types of 4.7 in (12 cm) diameter discs :
BD: BDMV (Profile 1.1), BDAV (Profile 1.1)
DVD: DVD-Video, DVD-Audio, AVCREC, AVCHD, DVD-VR
CD: CD-DA, VCD, CD-TEXT
DVD/CD: MP3, WMA, AAC, DivX (versions 3 - 6) profile 3.0
DVD Region Codes
The Blu-ray Disc player and many DVD discs are coded by geographic region. These region codes must match in order for the disc to play. If the region code for the DVD disc does not match the region code for the player, the disc will not play.
DVD Audio Support
When a DVD-Audio disc is inserted in the Blu-ray Disc player, the DVD-Audio title on the disc is played by default (most DVD-Audio discs also have a Video title, but the Video title is ignored). All multi-channel program material is automatically mixed down to two channels, which may result in a lowered apparent volume level. If you increase the volume level to account for this change in level, remember to lower the volume before changing the disc or to another mode.
Recorded Discs
The Blu-ray Disc player will play CD-R and CD-RWdiscs recorded in CD-Audio or Video-CD format, or as a CD-ROM containing MP3 or WMA files. The player will also play DVD-Video content recorded to a DVD-R or DVD-RW disc. DVD-ROM discs (either pressed or recorded) are not supported.
If you record a disc using a personal computer, there may be cases where the Blu-ray Disc player may not be able to play some or the entire disc, even if it is recorded in a compatible format and is playable on other players. To help avoid playback problems, use the following guidelines when recording discs.
Open sessions are ignored. Only sessions that are closed are playable.
For multi-session CDs that contain only multiple CDAudio sessions, the player will renumber the tracks so each track number is unique.
For CD Data (or CD-ROM) discs, always use the ISO-9660 (Level 1 or Level 2), Joliet, or Romeo format.Other formats (such as UDF, HFS, or others) are not supported.
The player recognizes a maximum of 512 files and 99 folders per CD-R and CD-RW disc.
Mixed media recordable DVD formats will only play the Video_TS portion of the disc.
If you are still having trouble writing a disc that is playable in the Blu-ray Disc player, check with the disc recording software publisher for more information about burning playable discs.
The recommended method for labeling recordable discs (CD-R, CD-RW, and DVD-R) is with a permanent marker.
Do not use adhesive labels as they may separate from the disc, become stuck, and cause permanent damage to the DVD player.
Compressed Audio Files (MP3 and WMA)
The Blu-ray Disc player is capable of playing MP3 (MPEG-1 Audio Layer 3) and WMA (Windows Media Audio) files from a CD Data disc (usually a CD-R or CD-RW).
The Blu-ray Disc player always uses the file extension to determine the audio format, so MP3 files must always end with the extension .mp3 or .MP3 and WMAfiles must always end with the extension .wma or .WMA . To prevent incorrect playback, do not use these extensions for any other types of files.
For MP3 files, only version 1 ID3 tag data (such as artist name, track title, album, etc.) are supported.
Any file that is copy protected (such as those downloaded from many online music stores) will not play.The Blu-ray player will automatically skip the file and begin playing the next available file.
Other compression formats such as AAC, MP3 Pro, Ogg Vorbis, and ATRAC3 will not play. The Blu-ray player will automatically skip the file and begin playing the next available file.
If you are creating your own files, the recommended fixed bit rate for MP3 files is between 96 and 192Kbps and the recommended fixed bit rate for WMA files is between 64 and 192Kbps. Variable bit rates are also supported. For both formats, the recommended sample rate is either 44.1kHz or 48kHz.
To change the current file, use the remote control's or Blu-ray Disc player's button to advance to the next file, or the button to return to the start of the current or previous file.
Disc Errors
If the Blu-ray Disc player is unable to read the disc, a Disc Error message is displayed on the rear screen and Radio displays. A dirty, damaged, or incompatible disc format are all potential causes for a Disc Error message.
If a disc has a damaged track which results in audible or visible errors that persists for two seconds, the Blu-ray
Disc player will attempt to continue playing the disc by skipping forward one to three seconds at a time. If the end of the disc is reached, the Blu-ray Disc player will return to the beginning of the disc and attempt to play the start of the first track.
The Blu-ray Disc player may shut down during extremely hot conditions, such as when the vehicle's interior temperature is above 120 F (48.9 C). When this occurs, the player will display High Temp and will shut off the Rear Seat displays until a safe temperature is reached. This shutdown is necessary to protect the optics of the Blu-ray Disc player.
Product Agreement
This product incorporates copyright protection technology that is protected by U.S. patents and other intellectual property rights. Use of this copyright protection technology must be authorized by Macrovision, and is intended for home or other limited viewing uses otherwise authorized by Macrovision. Reverse engineering or disassembly is prohibited.

Dolby Digital and MLP Lossless Manufactured under license from Dolby Laboratories. Dolby , MLP Lossless , and the double-D symbol are trademarks of Dolby Laboratories. Confidential unpublished works.
Copyright 1992-1997 Dolby Laboratories. All right reserved.
More about «Uconnect rear seat entertainment (rse) system - if equipped»:
Unwired Stereo Headphone Lifetime Limited Warranty