Dodge Durango

Owners Manual

Understanding the features of your vehicle

Roof luggage rack - if equipped
The crossbars and side rails are designed to carry weight on vehicles equipped with a luggage rack. The load must not exceed 150 lbs (68 kg), and should be uniformly distributed over the luggage rack crossbars.
The crossbars on your vehicle are delivered stowed within the roof rack side rails. Crossbars should always be used whenever cargo is placed on the roof rack. Check the straps frequently to be sure that the load remains securely attached.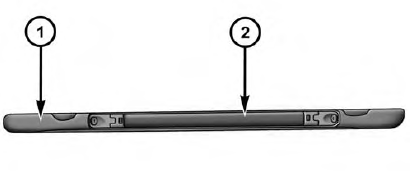 Roof Rack
1 - Side Rail
2 - Crossbar
The roof rack does not increase the total load carrying capacity of the vehicle. Be sure the total load of cargo inside the vehicle plus that on the external rack does not exceed the maximum vehicle load capacity.
More about «Understanding the features of your vehicle»:
Roof luggage rack - if equipped