Dodge Durango

Owners Manual

Understanding the features of your vehicle

Power tilt/telescoping steering column - if equipped
This feature allows you to tilt the steering column upward or downward. It also allows you to lengthen or shorten the steering column. The power tilt/telescoping steering column lever is located below the multifunction lever on the steering column.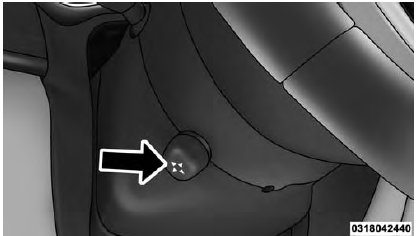 Power Tilt/Telescoping Steering Column
To tilt the steering column, move the lever up or down as desired. To lengthen or shorten the steering column, pull the lever toward you or push the lever away from you as desired.
NOTE: For vehicles equipped with Driver Memory Seat, you can use your Remote Keyless Entry key fob or the memory switch on the driver's door trim panel to return the tilt/telescopic steering column to pre-programmed positions. Refer to "Driver Memory Seat" in this section for further information.
WARNING! Do not adjust the steering column while driving. Adjusting the steering column while driving or driving with the steering column unlocked, could cause the driver to lose control of the vehicle. Failure to follow this warning may result in serious injury or death.
More about «Understanding the features of your vehicle»:
Power tilt/telescoping steering column - if equipped