Dodge Durango

Owners Manual

What to do in emergencies

Manual park release
WARNING! Always secure your vehicle by fully applying the parking brake, before activating the Manual Park Release. Activating the Manual Park Release will allow your vehicle to roll away if it is not secured by the parking brake or by proper connection to a tow vehicle. Activating the Manual Park Release on an unsecured vehicle could lead to serious injury or death for those in or around the vehicle.
In order to move the vehicle in cases where the transmission will not shift out of PARK (such as a dead battery), a Manual Park Release is available.
Follow these steps to use the Manual Park Release:
Firmly apply the parking brake.
Open the center console and locate the Manual Park Release cover, remove it by snapping the cover away from the console hinges.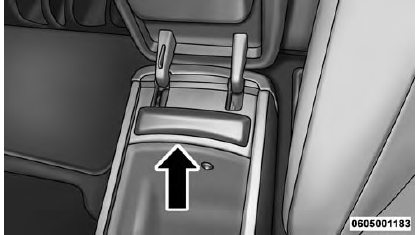 Manual Park Release Cover
Using a screwdriver or similar tool, push the metal latch in towards the tether strap.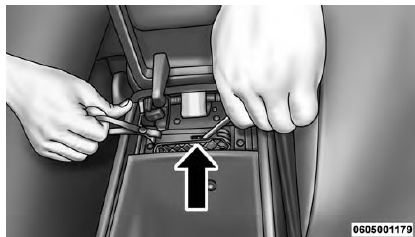 Release Latch
While the metal latch is in the open position, simultaneously pull upwards on the tether strap until the lever clicks and latches in the released position. The transmission is now out of PARK and the vehicle can be moved.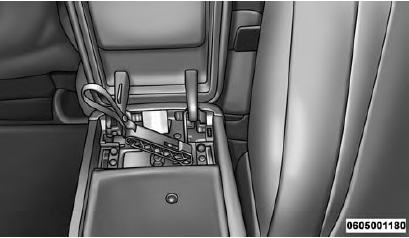 Released Position
CAUTION! Closing the armrest while the Manual Park Release is activated may damage the Manual Park Release mechanism, the transmission, and/or the armrest.
NOTE: To prevent the vehicle from rolling unintentionally, firmly apply the parking brake.
To Disengage the Manual Park Release Lever:
To disengage the Manual Park Release apply tension upward while pushing the release latch towards the tether to unlock the lever.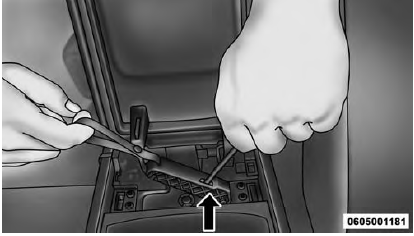 Release Latch
Once the tension has been released and the lever has been unlocked be sure it is stowed properly and locks into position.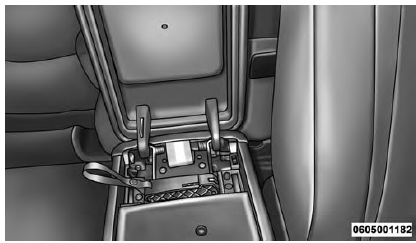 Stowed Position
NOTE: Be sure to replace the cover by snapping it back in place.
More about «What to do in emergencies»:
Manual park release