Dodge Durango

Owners Manual

Things to know before starting your vehicle » Occupant restraint systems » Child Restraints

Installing Child Restraints Using the Top Tether Anchorage
WARNING! Do not attach a tether strap for a rear-facing car seat to any location in front of the car seat, including the seat frame or a tether anchorage. Only attach the tether strap of a rear-facing car seat to the tether anchorage that is approved for that seating position, located behind the top of the vehicle seat. See the section "Lower Anchors and Tethers for CHildren (LATCH) Restraint System" for the location of approved tether anchorages in your vehicle.

Look behind the seating position where you plan to install the child restraint to find the tether anchorage. You may need to move the seat forward to provide better access to the tether anchorage. If there is no top tether anchorage for that seating position, move the child restraint to another position in the vehicle if one is available.
To access the top tether strap anchorages behind the rear seat, pull the carpeted floor panel away from the seat back, this will expose the top tether strap anchorages.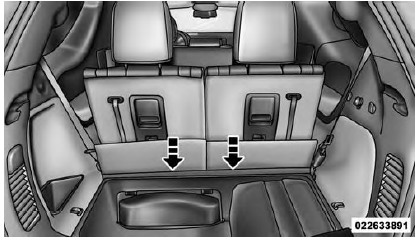 Pulling Down The Carpet Floor Panel To Access Top Tether Strap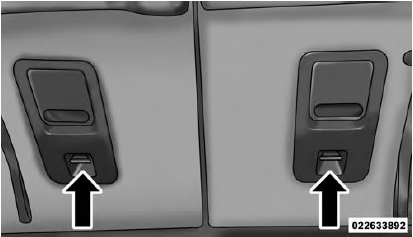 Top Tether Strap Anchorage (Located on Seatback)
Route the tether strap to provide the most direct path for the strap between the anchor and the child seat. If your vehicle is equipped with adjustable rear head restraints, raise the head restraint, and where possible, route the tether strap under the head restraint and between the two posts. If not possible, lower the head restraint and pass the tether strap around the outboard side of the head restraint.
For the center seating position, route the tether strap over the seatback and headrest then attach the hook to the tether anchor located on the back of the seat.
Attach the tether strap hook of the child restraint to the top tether anchorage as shown in the diagram.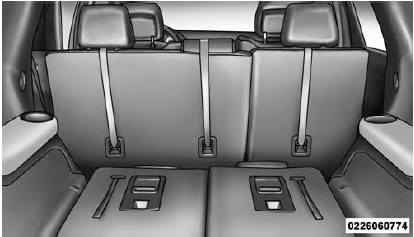 Top Tether Strap Mounting (60/40 Seat)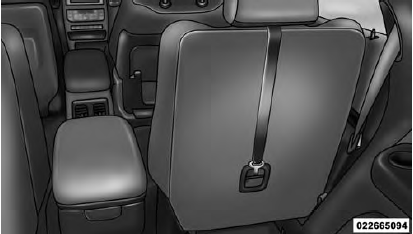 Top Tether Strap Mounting (Captain's Chair)
Remove slack in the tether strap according to the child restraint manufacturer's instructions.
WARNING!
The top tether anchorages are not visible until the gap panel is folded down. Do not use the visible cargo tie down hooks, located on the floor behind the seats, to attach a child restraint tether anchor.
An incorrectly anchored tether strap could lead to increased head motion and possible injury to the child. Use only the anchorage position directly behind the child seat to secure a child restraint top tether strap.
If your vehicle is equipped with a split rear seat, make sure the tether strap does not slip into the opening between the seatbacks as you remove slack in the strap.
More about «Child Restraints»:
Installing Child Restraints Using the Top Tether Anchorage