Dodge Durango

Owners Manual

Understanding your instrument panel » Uconnect voice recognition quick tips

Yelp (8.4A/8.4AN)
Once registered with Uconnect Access, you can use your voice to search for the most popular places or things around you.
Press the "Apps " button on the touchscreen.
Press the "Yelp" button on the touchscreen.
Once the YELP home screen appears on the touchscreen, push the VR button , then say: "YELP search."
Listen to the system prompts and after the beep, tell Uconnect the place or business that you'd like Uconnect to find.
TIP: Once you perform a search, you can reorganize the results by selecting either the Best Match, Rating or Distance tab on the top of the touchscreen display.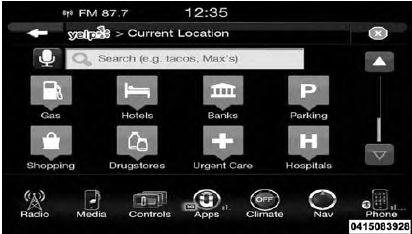 Yelp
More about «Uconnect voice recognition quick tips»:
Yelp (8.4A/8.4AN)