Dodge Durango

Service Manual

Wiper and Washer Systems » Description and operation

Wiper switch and washer switch
FRONT
The windshield wiper and washer switches are contained in the multi-function switch assembly (Fig.
1). The multi-function switch assembly is secured to the left side of the steering column. A knob on the end of the multi-function switch stalk is rotated to select the desired wiper speed or intermittent wipe delay, or depressed toward the steering column to activate the washer system.
The multi-function switch contains circuitry for the following functions:
Turn signals
Hazard warning
Headlamp beam selection
Headlamp optical horn
Windshield wipers
Windshield washers.
The information contained in this group addresses only the switch functions for the windshield wiper and washer systems. For information relative to the other switch functions, refer to the proper group.
However, the multi-function switch cannot be repaired. If any function of the multi-function switch is faulty, or if the switch is damaged, the entire switch assembly must be replaced.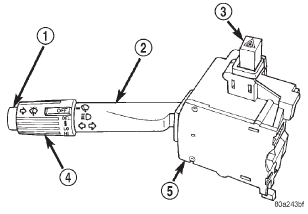 Fig. 1 Multi-Function Switch
1 - WINDSHIELD WASHER BUTTON
2 - CONTROL STALK
3 - HAZARD WARNING BUTTON
4 - WINDSHIELD WIPER CONTROL
5 - MULTI-FUNCTION SWITCH
REAR
The single two-function rear wiper and washer switch is integral to the rear window switch pod, which includes the rear window defogger switch. The rear window switch pod is installed in the instrument panel lower bezel, which is located near the center of the lower instrument panel, below the heater and air conditioner controls. The rear wiper and washer switch controls the rear wiper and washer functions.
The rear window switch pod also contains the rear window defogger logic and timer circuitry, an amber defogger indicator lamp, the rear window defogger relay, and two switch illumination lamps. The indicator and illumination lamps in the switch pod use incandescent bulbs, which can be serviced.
The sliding-type switch features a detent in the On position for the rear wiper. Pushing in on the rear wiper switch button activates the momentary rear washer switch. The rear wiper and washer switch also has an integral illumination lamp with a serviceable bulb. Both the rear wiper and rear washer motors will operate continuously for as long as the switch is held in the momentary Wash position.
The rear wiper and washer switch cannot be repaired and, if faulty or damaged, the entire rear window switch pod must be replaced.
More about «Description and operation»:
Wiper switch and washer switch