Dodge Durango

Owners Manual

Understanding the features of your vehicle » Windshield wipers and washers

Windshield Wiper Operation

Multifunction Lever
Rotate the end of the lever to one of the first four detent positions for intermittent settings, the fifth detent for low wiper operation and the sixth detent for high wiper operation.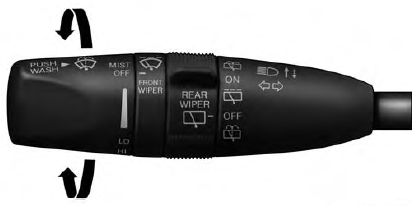 Windshield Wiper Operation
CAUTION! Always remove any buildup of snow that prevents the windshield wiper blades from returning to the "park" position. If the windshield wiper switch is turned off, and the blades cannot return to the "park" position, damage to the wiper motor may occur.
More about «Windshield wipers and washers»:
Windshield Wiper Operation