Dodge Durango

Service Manual

Tires and Wheels » Wheels » Service procedures

Wheel installation
The wheel studs and nuts are designed for specific applications. They must be replaced with equivalent parts. Do not use replacement parts of lesser quality or a substitute design. All aluminum and some steel wheels have wheel stud nuts which feature an enlarged nose. This enlarged nose is necessary to ensure proper retention of the aluminum wheels.
NOTE: Do not use chrome plated lug nuts with chrome plated wheels.
Before installing the wheel, be sure to remove any build up of corrosion on the wheel mounting surfaces.
Ensure wheels are installed with good metal-to-metal contact. Improper installation could cause loosening of wheel nuts. This could affect the safety and handling of your vehicle.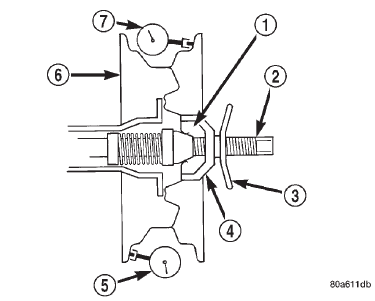 Fig. 4 Lateral Runout
1 - MOUNTING CONE
2 - SPINDLE SHAFT
3 - WING NUT
4 - PLASTIC CUP
5 - DIAL INDICATOR
6 - WHEEL
7 - DIAL INDICATOR
To install the wheel, first position it properly on the mounting surface. All wheel nuts should then be tightened just snug. Gradually tighten them in sequence to the proper torque specification (Fig. 5).
Never use oil or grease on studs or nuts.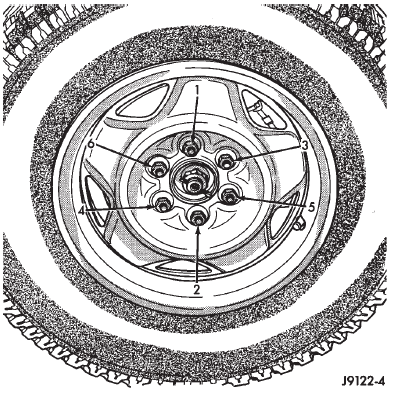 Fig. 5 Lug Nut Tightening Pattern
WHEEL REPLACEMENT
Wheels must be replaced if they have:
Excessive runout
Bent or dented
Leak air through welds
Have damaged bolt holes
Wheel repairs employing hammering, heating, or welding are not allowed.
Original equipment wheels are available through your dealer. Replacement wheels from any other source should be equivalent in:
Load carrying capacity
Diameter
Width
Offset
Mounting configuration
Failure to use equivalent replacement wheels may affect the safety and handling of your vehicle.
Replacement with used wheels is not recommended.
Their service history may have included severe treatment.
More about «Service procedures»:
Wheel installation