Dodge Durango

Service Manual

Cooling System » Description and operation

Water pump bypass-4.7L
DESCRIPTION
The 4.7L engine uses an internal water/coolant bypass system. The design uses galleries in the timing chain cover to circulate coolant during engine warm-up preventing the coolant from flowing through the radiator. The thermostat uses a stub shaft located at the rear of the thermostat (Fig. 9) to control flow through the bypass gallery.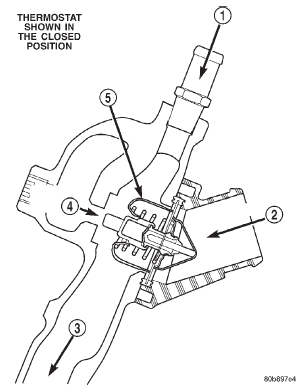 Fig. 9 Water/Coolant Bypass Flow and Thermostat- 4.7L Engine
1 - FROM HEATER
2 - FROM RADIATOR
3 - TO WATER PUMP
4 - ENGINE BYPASS
5 - THERMOSTAT
OPERATION
When the thermostat is in the closed position the bypass gallery is not obstructed allowing 100% flow.
When the thermostat is in the open position the stub shaft enters the bypass gallery obstructing bypass coolant flow by 50%. This design allows the coolant to reach operating temperature quickly when cold, while adding extra cooling during normal temperature operation.
More about «Description and operation»:
Water pump bypass-4.7L