Dodge Durango

Service Manual

Lamps » Lamp bulb service

Underhood lamp bulb
REMOVAL
(1) Insert a small flat blade in the access slot between the lamp base and lamp lens.
(2) Pry the lamp lens upward and remove the lamp lens (Fig. 7).
(3) Depress the bulb terminal inward (Fig. 8) to release the bulb.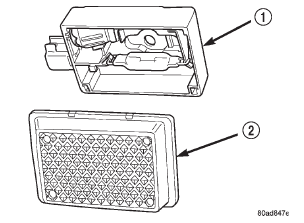 Fig. 7 Underhood Lamp Lens
1 - LAMP
2 - LAMP LENS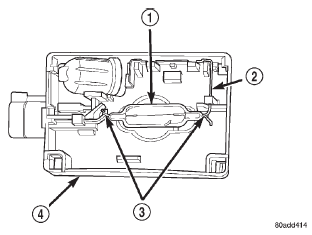 Fig. 8 Underhood Lamp Bulb
1 - BULB
2 - DEPRESS TERMINAL INWARD
3 - BULB WIRE LOOP
4 - LAMP BASE
INSTALLATION
(1) Engage the replacement bulb wire loop to the terminal closest to the lamp base wire connector.
(2) Depress the opposite terminal inward and engage the remaining bulb wire loop.
(3) Position the lamp lens on the lamp base and press into place.
More about «Lamp bulb service»:
Underhood lamp bulb