Dodge Durango

Service Manual

Lamps » Lamp service » Removal and installation

Underhood lamp
REMOVAL
(1) Disconnect the wire harness connector from the lamp.
(2) Remove lamp lens.
(3) Remove bulb.
(4) Remove screw attaching underhood lamp to the inner hood panel (Fig. 9).
(5) Separate underhood lamp from vehicle.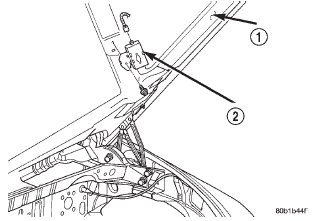 Fig. 9 Underhood Lamp Removal
1 - HOOD
2 - UNDERHOOD LAMP
INSTALLATION
(1) Install bulb.
(2) Install lamp lens.
(3) Position the underhood lamp on the hood inner panel.
(4) Install the attaching screw through the lamp and into the hood panel (Fig. 9). Tighten the screw securely.
(5) Fold lamp housing over and firmly press onto base to snap into place.
(6) Connect the wire harness connector to the lamp.
More about «Removal and installation»:
Underhood lamp