Dodge Durango

Owners Manual

Starting and operating » Tires - general information

Tread Wear Indicators
Tread wear indicators are in the original equipment tires to help you in determining when your tires should be replaced.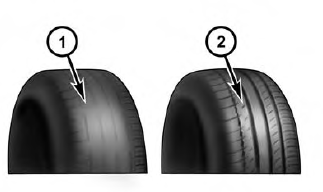 Tire Tread
1 - Worn Tire
2 - New Tire
These indicators are molded into the bottom of the tread grooves. They will appear as bands when the tread depth becomes a 1/16 of an inch (1.6 mm). When the tread is worn to the tread wear indicators, the tire should be replaced. Refer to "Replacement Tires" in this section for further information.
More about «Tires - general information»:
Tread Wear Indicators