Dodge Durango

Service Manual

Tires and Wheels » Tires » Description and operation

Tire inflation pressures
DESCRIPTION
Under inflation will cause rapid shoulder wear, tire flexing, and possible tire failure (Fig. 2).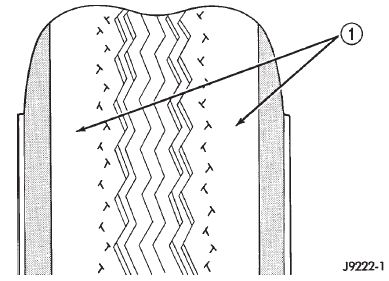 Fig. 2 Under Inflation Wear
1 - THIN TIRE THREAD AREAS
Over inflation will cause rapid center wear and loss of the tire's ability to cushion shocks (Fig. 3).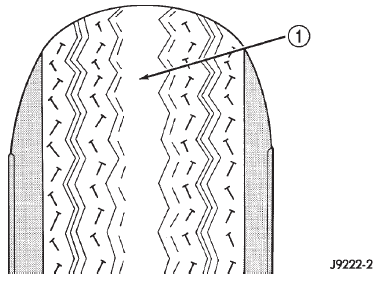 Fig. 3 Over Inflation Wear
1 - THIN TIRE THREAD AREA
Improper inflation can cause:
Uneven wear patterns
Reduced tread life
Reduced fuel economy
Unsatisfactory ride
Vehicle drift
For proper tire pressure specification refer to the Tire Inflation Pressure Chart provided with the vehicles Owners Manual. A Certification Label on the drivers side door pillar provides the minimum tire and rim size for the vehicle. The label also list the cold inflation pressure for these tires at full load operation Tire pressures have been chosen to provide safe operation, vehicle stability, and a smooth ride. Tire pressure should be checked cold once a month. Tire pressure decreases as the ambient temperature drops. Check tire pressure frequently when ambient temperature varies widely.
Tire inflation pressures are cold inflation pressure.
The vehicle must sit for at least 3 hours to obtain the correct cold inflation pressure reading. Or be driven less than one mile after sitting for 3 hours. Tire inflation pressures may increase from 2 to 6 pounds per square inch (psi) during operation. Do not reduce this normal pressure build-up.
WARNING: OVER OR UNDER INFLATED TIRES CAN AFFECT VEHICLE HANDLING AND TREAD WEAR. THIS MAY CAUSE THE TIRE TO FAIL SUDDENLY, RESULTING IN LOSS OF VEHICLE CONTROL.
More about «Description and operation»:
Tire inflation pressures