Dodge Durango

Service Manual

Tires and Wheels » Wheels » Service procedures

Tire and wheel balance
It is recommended that a two plane service dynamic balancer be used when a tire and wheel assembly require balancing. Refer to balancer operation instructions for proper cone mounting procedures.
Typically use front cone mounting method for steel wheels. For aluminum wheel use back cone mounting method without cone spring.
NOTE: Static should be used only when a two plane balancer is not available.
NOTE: Cast aluminum and forged aluminum wheels require coated balance weights and special alignment equipment.
Wheel balancing can be accomplished with either on or off vehicle equipment. When using on-vehicle balancing equipment, remove the opposite wheel/tire.
Off-vehicle balancing is recommended.
For static balancing, find the location of the heavy spot causing the imbalance. Counter balance wheel directly opposite the heavy spot. Determine weight required to counter balance the area of imbalance.
Place half of this weight on the inner rim flange and the other half on the outer rim flange (Fig. 6).
For dynamic balancing, the balancing equipment is designed to locate the amount of weight to be applied to both the inner and outer rim flange (Fig. 7).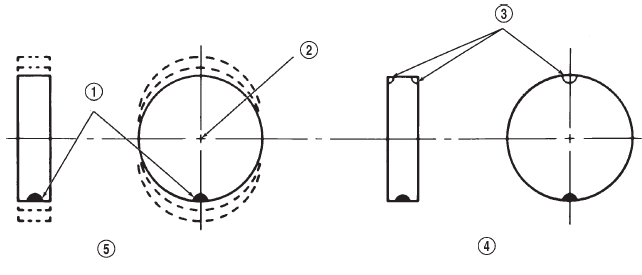 Fig. 6 Static Unbalance & Balance
1 - HEAVY SPOT
2 - CENTER LINE OF SPINDLE
3 - ADD BALANCE WEIGHTS HERE
4 - CORRECTIVE WEIGHT LOCATION
5 - TIRE OR WHEEL TRAMP, OR WHEEL HOP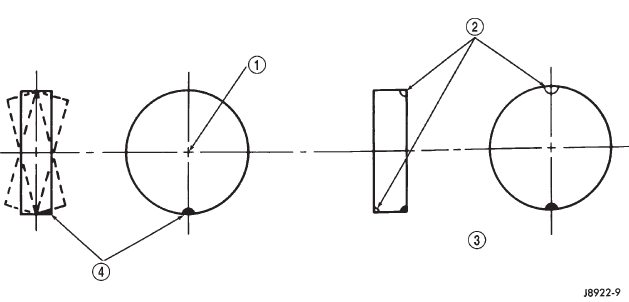 Fig. 7 Dynamic Unbalance & Balance
1 - CENTER LINE OF SPINDLE
2 - ADD BALANCE WEIGHTS HERE
3 - CORRECTIVE WEIGHT LOCATION
4 - HEAVY SPOT WHEEL SHIMMY AND VIBRATION
Specifications
Torque chart
DESCRIPTION TORQUE
Wheel
Lug Nut . . . . . 115 to 157 N*m (85 to 115 ft. lbs.)
CAUTION: DO NOT USE CHROME PLATED LUG NUTS WITH CHROME PLATED WHEELS.
More about «Service procedures»:
Tire and wheel balance