Dodge Durango

Service Manual

Steering » Rack & pinion steering gear » Removal and installation

Tie rod end
REMOVAL
(1) Raise and support the vehicle.
(2) Remove the nut from the tie rod end.
(3) Separate the tie rod end from the steering knuckle with Puller C-3894-A.
(4) Loosen the jam nut (Fig. 2) and unthread the tie rod end.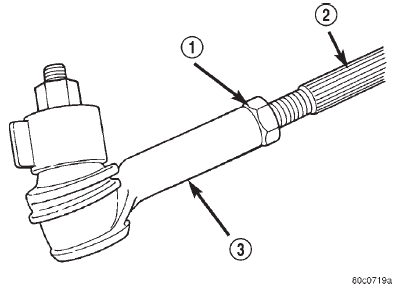 Fig. 2 Tie Rod End
1 - JAM NUT
2 - TIE ROD
3 - TIE ROD END
INSTALLATION
(1) Thread the tie rod end onto the tie rod.
(2) Clean the tie rod end stud and knuckle taper.
(3) Install the tie rod end stud into the steering knuckle and tighten the nut to 108 N*m (80 ft. lbs.).
(4) Tighten the jam nut to 75 N*m (55 ft. lbs.).
NOTE: Do not twist boot while tighten the jam nut.
(5) Remove support and lower vehicle.
(6) Adjust the wheel toe position, Refer to Group 2 Suspension.
More about «Removal and installation»:
Tie rod end