Dodge Durango

Service Manual

Fuel System » Fuel injection system » Diagnosis and testing

Throttle body minimum air flow check procedure
3.9/5.2/5.9L ENGINES
The following test procedure has been developed to check throttle body calibrations for correct idle conditions.
The procedure should be used to diagnose the throttle body for conditions that may cause idle problems.
This procedure should be used only after normal diagnostic procedures have failed to produce results that indicate a throttle body related problem. Be sure to check for proper operation of the idle air control motor before performing this test.
A special fixed orifice tool (number 6714) (Fig. 14) must be used for the following test.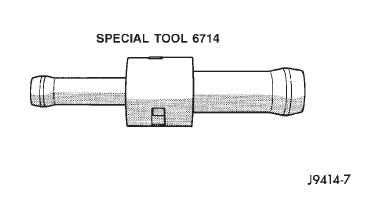 Fig. 14 Fixed Orifice Tool
(1) Start the engine and bring to operating temperature.
Be sure all accessories are off before performing this test.
(2) Shut off the engine and remove the air duct at throttle body.
(3) Disconnect the vacuum line at the PCV valve (Fig. 15).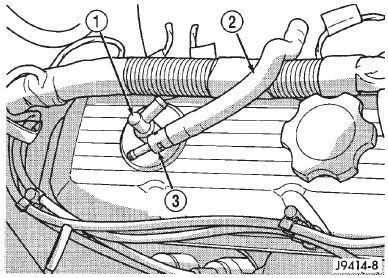 Fig. 15 Install Orifice Tool
1 - PCV VALVE
2 - VACUUM LINE
3 - ORIFICE TOOL
(4) Install the 0.185 inch orifice tool (number 6714) into the disconnected vacuum line in place of the PCV valve (Fig. 15).
(5) Disconnect the idle purge vacuum line from fitting at throttle body. This vacuum line is located on the front of throttle body next to the MAP sensor (Fig. 16). Cap the fitting at throttle body after vacuum line has been removed.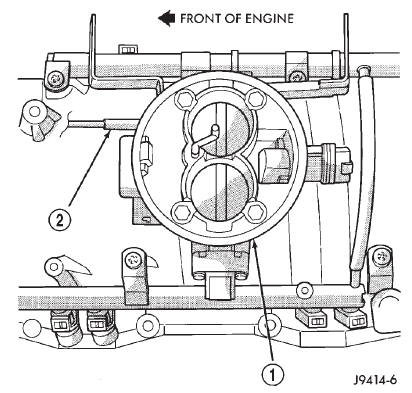 Fig. 16 Idle Purge Line
1 - THROTTLE BODY
2 - PURGE VACUUM LINE
(6) Connect the DRB scan tool to the 16-way data link connector. This connector is located under the instrument panel to the left of the steering column.
Refer to the appropriate Powertrain Diagnostic Procedures service manual for DRB operation.
(7) Start the engine and allow to warm up.
(8) Using the DRB scan tool, scroll through the menus as follows: select-Stand Alone DRB III, select the year 2000 Diagnostics, select-Engine, select- System Test, select-Minimum Air Flow.
(9) The DRB scan tool will count down to stabilize the idle rpm and display the minimum air flow idle rpm. The idle rpm should be between 500 and 900 rpm. If the idle speed is outside of these specifications, replace the throttle body. Refer to Throttle Body in the Component Removal/Installation section of this group.
(10) Disconnect the DRB scan tool from the vehicle.
(11) Remove cap from idle purge fitting at throttle body and install vacuum line.
(12) Remove orifice tool and connect vacuum line to PCV valve.
(13) Install air duct to throttle body.
More about «Diagnosis and testing»:
Throttle body minimum air flow check procedure