Dodge Durango

Service Manual

Cooling System » Description and operation

Thermostat-4.7L engine
DESCRIPTION
CAUTION: Do not operate an engine without a thermostat, except for servicing or testing.
A pellet-type thermostat controls the operating temperature of the engine by controlling the amount of coolant flow to the radiator. On all engines the thermostat is closed below 195F (90C). Above this temperature, coolant is allowed to flow to the radiator.
This provides quick engine warm up and overall temperature control. On the 4.7L engine the thermostat is designed to block the flow of the coolant bypass journal by 50% instead of completely blocking the flow. This design controls coolant temperature more accurately (Fig. 5).
The same thermostat is used for winter and summer seasons. An engine should not be operated without a thermostat, except for servicing or testing.
Operating without a thermostat causes other problems.
These are: longer engine warmup time, unreliable warmup performance, increased exhaust emissions and crankcase condensation. This condensation can result in sludge formation.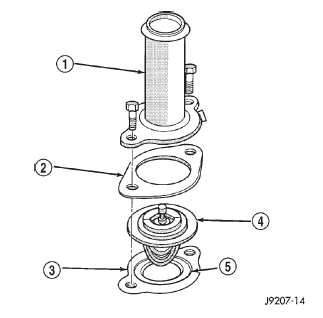 Fig. 4 Thermostat-Typical
OPERATION
The wax pellet is located in a sealed container at the spring end of the thermostat. When heated, the pellet expands, overcoming closing spring tension and water pump pressure to force the valve to open.
More about «Description and operation»:
Thermostat-4.7L engine