Dodge Durango

Owners Manual

Understanding the features of your vehicle » Roof luggage rack - if equipped

Stowing The Crossbars
Starting with one crossbar, completely loosen the thumb screws at both ends. Slide the crossbar away from the matching letter to remove it from the deployed position.
Repeat with the other crossbar.
CAUTION! Be careful when handling the crossbars to prevent damage to the vehicle.
Starting with the one crossbar, bend up the pivot supports at each end.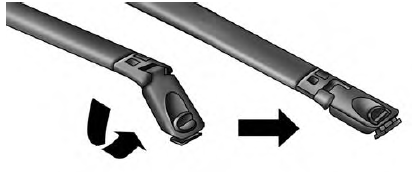 Crossbar Pivot
Then, position the crossbar along the correct side rail.
Make sure the letters on the crossbar align with the matching letters on the side rail.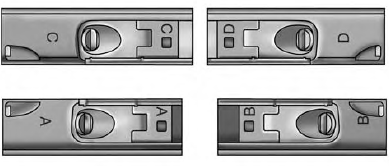 Stowing Crossbars
Slide the crossbar outward, away from the center of the roof. The crossbar will nest fully within the side rail.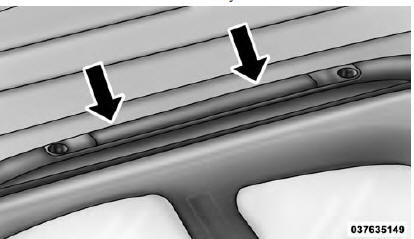 Crossbar To Side Rail
Once the driver's side crossbar is in place, tighten the thumb screws completely.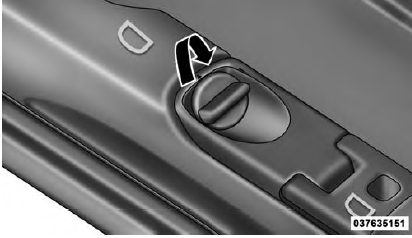 Tightening Crossbar
Repeat the procedure to stow the second crossbar on the opposite side.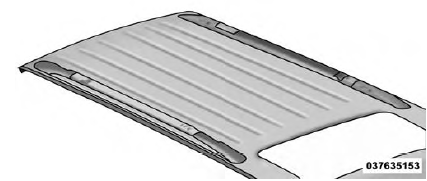 Stowed Crossbars
NOTE:
To help control wind noise, stow the crossbars in the side rails when they are not in use.
If any metallic object is placed over the satellite radio antenna (if equipped), you may experience interruption of satellite radio reception.
WARNING! Cargo must be securely tied before driving your vehicle. Improperly secured loads can fly off the vehicle, particularly at high speeds, resulting in personal injury or property damage. Follow the roof rack cautions when carrying cargo on your roof rack. the roof. If it is necessary to place the load on the roof, place a blanket or other protective layer between the load and the roof surface.
To avoid damage to the roof rack and vehicle, do not exceed the maximum roof rack load capacity of 150 lb (68 kg). Always distribute heavy loads as evenly as possible and secure the load appropriately.
Load should always be secured to cross bars first, with tie down loops used as additional securing points if needed. Tie loops are intended as supplementary tie down points only. Do not use ratcheting mechanisms with the tie loops. Check the straps and thumb wheels frequently to be sure that the load remains securely attached.
Long loads that extend over the windshield, such as wood panels or surfboards, or loads with large frontal area should be secured to both the front and rear of the vehicle.
Travel at reduced speeds and turn corners carefully when carrying large or heavy loads on the roof rack. Wind forces, due to natural causes or nearby truck traffic, can add sudden upward lift to a load. This is especially true on large flat loads and may result in damage to the cargo or your vehicle.
CAUTION!
To prevent damage to the roof of your vehicle, DO NOT carry any loads on the roof rack without the crossbars deployed. The load should be secured and placed on top of the crossbars, not directly on
More about «Roof luggage rack - if equipped»:
Stowing The Crossbars