Dodge Durango

Service Manual

Frame and Bumpers » Removal and installation

Spare tire winch
CAUTION: Do not use impact wrench when winching spare tire.
REMOVAL
(1) Remove spare tire.
(2) Raise and support vehicle on hoist.
(3) Remove bolts attaching spare tire winch to frame.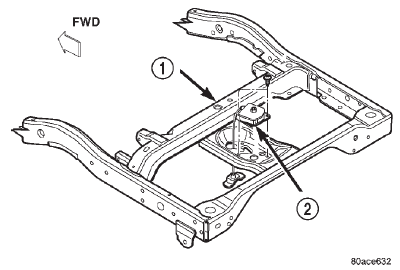 Fig. 6 Spare Tire Winch
1 - FRAME
2 - SPARE TIRE WINCH
INSTALLATION
(1) Position spare tire winch on frame and install bolts. Tighten bolts to 18 N*m (13 ft. lbs.) torque.
(2) Remove support and lower vehicle.
(3) Install spare tire.
More about «Removal and installation»:
Spare tire winch