Dodge Durango

Owners Manual

What to do in emergencies » Jacking and tire changing

Spare Tire Stowage
The spare tire is stowed under the rear of the vehicle by means of a cable winch mechanism. To remove or stow the spare, use the jack handle/lug wrench connected to the square socket extension to rotate the "spare tire drive" nut. The nut is located under a plastic cover at the center-rear of the cargo floor area, just inside the liftgate opening.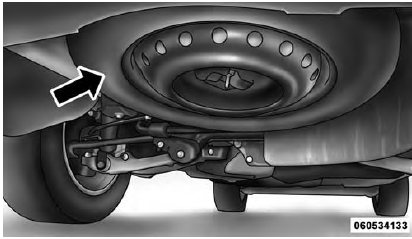 Spare Tire Location
CAUTION! Do not use power tools to winch the tire up or down. Impact type tools can damage the winch mechanism.
More about «Jacking and tire changing»:
Spare Tire Stowage