Dodge Durango

Service Manual

Brakes » Rear wheel antilock brakes » Removal and installation

Rwal valve
REMOVAL
(1) Remove RWAL valve harness connector from the RWAL controller.
(2) Remove the brake lines from the valve.
(3) Remove the valve mounting bolt (Fig. 8) and remove the valve from the bracket.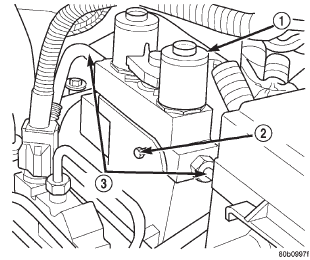 Fig. 8 RWAL Valve
1 - RWAL VALVE
2 - MOUNTING BOLT
3 - BRAKE LINES
INSTALLATION
(1) Position the valve on the bracket and install the mounting bolt. Tighten the mounting bolt to 20-27 N*m (15-20 ft. lbs.).
(2) Install the brake lines and tighten to 19 N*m (170 in. lbs.).
(3) Install the RWAL valve harness connector into the RWAL controller.
(4) Bleed base brake system.
More about «Removal and installation»:
Rwal valve