Dodge Durango

Service Manual

Emission Control Systems » Evaporative emission controls » Removal and installation

Rollover valve(s)
Two rollover valves are used. One of the valves is permanently mounted to top/rear of fuel tank (Fig.
23). If replacement of this particular valve is necessary, the fuel tank must be replaced. Refer to Fuel Tank Removal/Installation in Group 14, Fuel System.
The other rollover valve is located on top of the fuel pump module (Fig. 23). This valve may be serviced separately. Refer to following steps for procedures.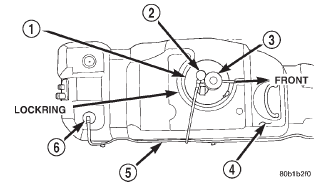 Fig. 23 Rollover Valve Locations
1 - FUEL PUMP MODULE
2 - FRONT ROLLOVER VALVE
3 - FUEL FILTER/FUEL PRESSURE REGULATOR
4 - FUEL TANK
5 - EVAP LINE
6 - REAR ROLLOVER VALVE
REMOVAL
WARNING: THE FUEL SYSTEM IS UNDER A CONSTANT PRESSURE (EVEN WITH THE ENGINE OFF).
BEFORE SERVICING THE ROLLOVER VALVE(S), FUEL SYSTEM PRESSURE MUST BE RELEASED.
REFER TO FUEL PRESSURE RELEASE PROCEDURE IN GROUP 14, FUEL SYSTEM.
(1) Disconnect negative battery cable at battery.
(2) Remove fuel filler cap and drain fuel tank.
(3) Remove fuel tank. Refer to Fuel Tank Removal/ Installation in Group 14, Fuel System.
(4) Disconnect tube (line) at valve.
(5) The rollover valve is seated into a rubber grommet.
Remove valve by prying one side upward and then roll valve out of grommet.
(6) Discard old grommet.
INSTALLATION
(1) Install new grommet into fuel pump module.
(2) Using finger pressure only, press valve into place.
(3) Install fuel tank. Refer to Fuel Tank Installation.
(4) Fill fuel tank. Install fuel tank filler cap.
(5) Connect negative battery cable.
(6) Start vehicle and check for leaks.
More about «Removal and installation»:
Rollover valve(s)