Dodge Durango

Service Manual

Emission Control Systems » Evaporative emission controls » Description and operation

Rollover valve
DESCRIPTION
The fuel tank is equipped with two rollover valves.
The front valve is located on the top of the fuel pump module (Fig. 1). The other valve is located on the top rear of the fuel tank (Fig. 1).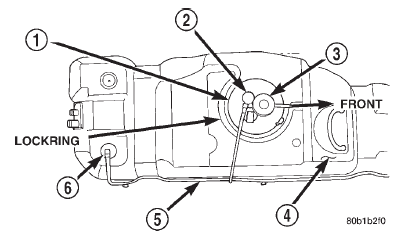 Fig. 1 Rollover Valve Locations
1 - FUEL PUMP MODULE
2 - FRONT ROLLOVER VALVE
3 - FUEL FILTER/FUEL PRESSURE REGULATOR
4 - FUEL TANK
5 - EVAP LINE
6 - REAR ROLLOVER VALVE
OPERATION
The rollover valves will prevent fuel flow through the fuel tank vent (EVAP) hoses in the event of an accidental vehicle rollover. The EVAP canister draws fuel vapors from the fuel tank through these valves.
The rear valve cannot be serviced separately. If replacement is necessary, the fuel tank must be replaced. Refer to Fuel Tank Removal/Installation in Group 14, Fuel System. The front valve can be serviced separately.
More about «Description and operation»:
Rollover valve